Understand what's happening on your factory floor to improve production efficiency.
Gain production capacity, enabling you to make more products with the same resources.
What Is Downtime Monitoring?
Downtime monitoring software is used to improve production efficiency and factory floor productivity. FourJaw's Plug & Play machine downtime tracking technology captures accurate real-time data on downtime events in your manufacturing facility.
Our customers use this information to understand the cause of machine downtime, identify opportunities for improved machine utilisation, increase production capacity, whilst understanding the true cost of jobs.
PLUG & PLAY SOLUTION
How It works
The MachineLink Hardware uses sensors and powerful algorithms to recognise when the machine is in a productive or unproductive state.
The Operator Tablet automatically prompts operators to select downtime reasons, shows performance through a shift, enables work booking and can be used as a communication platform.
The Web App visualises your factory floor data, so you can manage your operations on a day-by-day basis as well as provide actionable insight into where productivity and energy improvements can be achieved.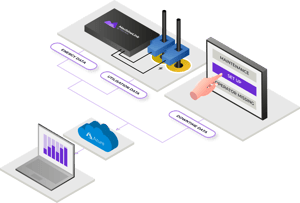 Main power cable on your machine
Power supply that indicates productive running of machine
MachineLink
Plug & play IoT hardware
Operator Tablet
mounted to machine
Your data securely cloud Hosted
Visualise your data
on desktop or mobile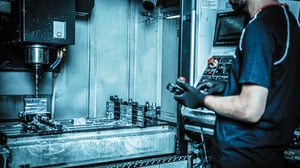 It turned out that machine downtime from on-machine programming was costing more than £100,000 in machining time.
MACHINE DOWNTIME MONITORING FEATURES
KNOW YOUR MAIN DOWNTIME REASONS
Downtime Pareto
FourJaw's Downtime Pareto chart gives a view of the top downtime reasons as a percentage of total downtime.
FourJaw's Downtime Pareto chart gives a view of the top downtime reasons as a percentage of total downtime
Make changes that will have the biggest impact to improve your Overall Equipment Effectiveness (OEE) to gain valuable production capacity and maximise machine utilisation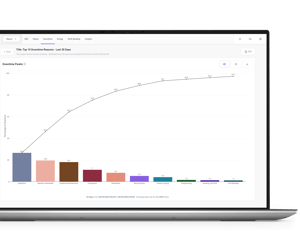 INTUITIVE TABLET INTERFACE
OPERATOR DASHBOARD
FourJaw's user-friendly interface on the tablets mounted to your operators' machines allows them to proactively provide downtime reasons when automatically prompted.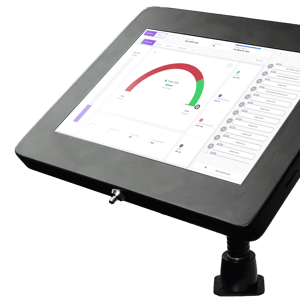 AUTOMATIC ALERTS
MACHINE STATUS ALERTS
Improve the speed of your team's communication. Alert production managers based on tailored event triggers that are important to your operations.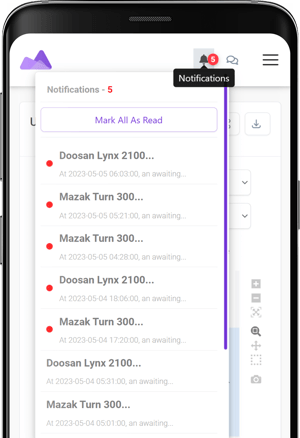 CUSTOMISE YOUR DOWNTIME REASONS
Custom Categories
FourJaw allows you to create custom machine downtime monitoring categories and reasons to ensure data classification suits how you work.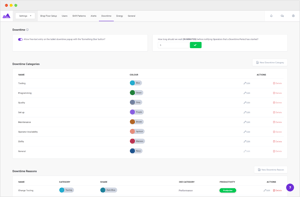 AFFORDABLE MACHINE DOWNTIME MONITORING SOFTWARE
FourJaw Pricing
Plug-and-Play Installation that works on any machine. Training and ongoing support are all included in the price.
Have a question about our packages? Get in touch with us.
Essential
£37.50/mo Per machine - Billed monthly
£33.75/mo Per machine - Billed monthly
Benchmark productivity with basic reporting
Standard
£75.00/mo Per machine - Billed monthly
£67.50/mo Per machine - Billed monthly
Benchmarking & Shift Reporting
Resolve issues faster with real-time alerts
Empower Your Machine Operators
Machine operators often know about production issues that impact productivity, but lack the tools to effectively communicate them to production managers.
FourJaw machine monitoring solves this problem with easy-to-use tablets that allow operators to log and communicate machine downtime issues in real-time. This data enables both operators and managers to identify areas for improvement and boost machine availability.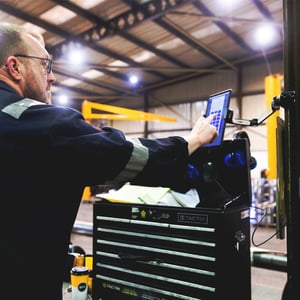 PLUG-AND-PLAY DOWNTIME MONITORING SOFTWARE
Frequently Asked Questions
What are examples of machine downtime?
Machine downtime counts as anything that has stopped the normal operation of your machine, and your machine is not outputting at its usual capacity. This could be for several reasons, which can differ from machine-to-machine, but some examples include:
Unplanned Maintenance
Tooling Change
Manual Setup
Tool Breakage
Programming
How do you measure machine downtime?
To accurately measure machine downtime, we recommend using a solution such as a machine downtime monitoring system. Solutions like this, enable manufacturers to capture, in real-time when a machine is not running or producing parts. Calculated as a percentage, equipment downtime analysis allows you to track and compare production levels over a period of time. The calculation is as follows:
Total Time Machine is Up
* 100
_____________
Total Time
Machine downtime measures how frequently machines, cells, or factories are faced with unplanned downtime. Recording and reporting downtime allows production managers to review resource utilisation and identify production inefficiencies.
What is equipment downtime analysis?
Equipment downtime analysis is the process of reporting, reviewing and strategising, using information given by a machine downtime software.
Downtime analysis is an essential part of running a successful manufacturing plant. It enables production managers to better understand issues affecting production and fix them.
Is downtime monitoring important?
Yes, machine downtime monitoring is important. Tracking downtime gives managers accurate and reliable information which can paint a clearer picture as to what is causing production delays and issues. Production managers can use this information for decision-making and production planning to improve efficiencies, productivity and OEE.
Can you monitor energy with downtime monitoring?
Yes. FourJaw's downtime monitoring software can also monitor energy usage. Enabling manufacturers to understand energy usage by machine, factory or cell. Find out more about
energy monitoring here.