See your OEE score by machine, cell, production line or factory, in real-time and over time.
Understand the underlying reasons for any production losses and take corrective action.
DRIVE CONTINUOUS IMPROVEMENT
Use accurate OEE data to inform process and behavioural changes to drive improvement.
Accurately Measure OEE without the Hassle
Overall Equipment Effectiveness (OEE) is seen by many manufacturers as the gold standard in productivity monitoring, taking into account Performance, Availability and Quality.
It identifies the percentage of manufacturing time that is truly productive. An OEE of 100% means that only good parts are produced (100% quality), at the maximum speed (100% performance), and without interruption (100% availability).
FourJaw is an easy-to-install OEE machine monitoring platform that can enable you to determine your machine's availability and identify areas where performance can be improved, helping you on your journey to lean manufacturing.
MEASURE MORE THAN OEE
MAXIMISE YOUR FACTORY EFFICIENCY
By combining machine usage data and energy usage data, FourJaw's machine monitoring platform provides benefits that extend beyond OEE.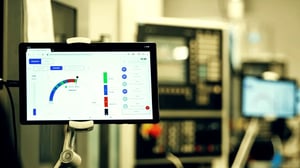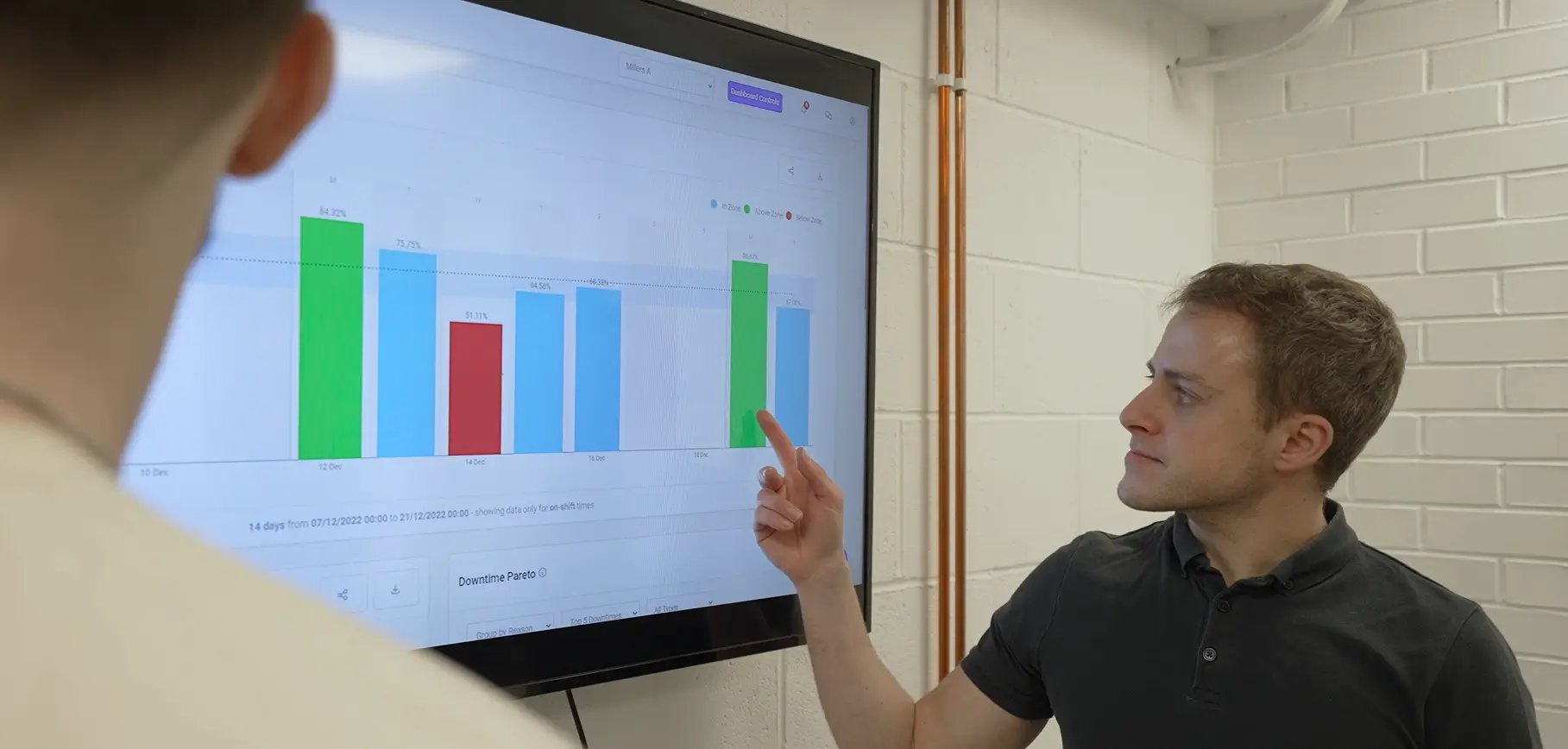 BENEFITS OF FOURWJAW'S OEE SOFTWARE
Improve productivity, reduce wastage and understand the true cost of jobs to maximise profitability.
Empower your machine operators with accurate, real-time machine data to help them improve shift productivity.
Understand the top causes of machine downtime and waste to inform your continuous improvement strategy.
Replace opinion with fact, using accurate data. People can feel empowered to make decisions based on actionable insight to drive operational efficiencies.
Use data insight to remove inefficiencies and understand your carbon footprint by machine, cell or factory to support your sustainable manufacturing initiatives.
TRUSTED BY MANUFACTURERS
The complexity of manufacturing naturally leads to inefficiency. We enable manufacturers to overcome and master the complexity through our technology.
TECHNOLOGY THAT'S ACCESSIBLE TO ALL
Our mission is to deliver accessible technology that empowers manufacturers of all shapes and sizes to achieve their productivity potential.
ACCURATELY & EASILY MEASURE OEE
OEE Monitoring System for Small-Batch And Volume-Production
FourJaw's OEE machine monitoring software enables manufacturers of all sizes to understand, manage and improve their Overall Equipment Effectiveness (OEE).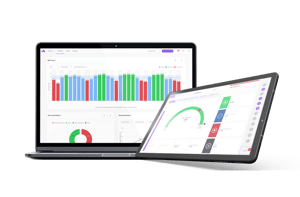 INCREASE PRODUCTION EFFICIENCY
KNOW YOUR OEE TREND
Know what 'good' OEE looks like in your factory
See your overall OEE trend or view it by Performance, Availability or Quality, by hour/day.
Zoom out or In - see your OEE trend by factory, cell, production line or machine.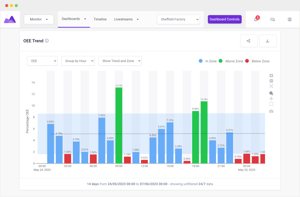 ROOT-CAUSE PROBLEM SOLVING
Understand top downtime reasons
Understand what's causing your production inefficiencies.
Not all downtime is equal. See time in each state by unproductive/productive downtime
Downtime Pareto gives you the top downtime reasons, enabling you to identify where to prioritise your efforts to improve availability and performance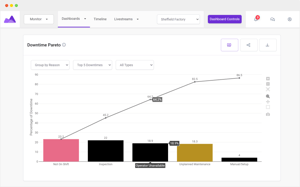 COMPARE OEE BY SHIFT
Understand shift performance
See Overall Equipment Effectiveness by shift.
See your OEE score by shift and look into the data insight to understand which shifts are more productive and why
Make process changes to improve shift efficiency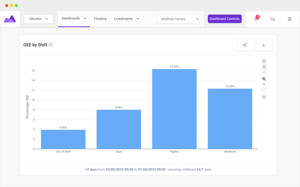 AFFORDABLE OEE MACHINE MONITORING SOFTWARE
FourJaw Pricing
Plug-and-Play Installation that works on any machine. Training & ongoing support are all included in the price.
Essential
£37.50/mo Per machine - Billed monthly
£33.75/mo Per machine - Billed monthly
Benchmark productivity with basic reporting
Standard
£75.00/mo Per machine - Billed monthly
£67.50/mo Per machine - Billed monthly
Benchmarking & Shift Reporting
Resolve issues faster with real-time alerts
OEE Monitoring Software
FREQUENTLY ASKED QUESTIONS
Here's a selection of frequently asked questions relating to our OEE monitoring system along with our answers! Looking for more information about OEE, tips and best practise? Visit our OEE knowledge page.
How can machine monitoring help improve OEE?
The OEE measure in manufacturing looks at three factors; Quality, Performance and Availability. FourJaw's machine monitoring platform is designed to help identify, measure and improve how productive a production line (or machine) is. Therefore if you're looking to start or improve your current OEE measures, then our machine monitoring platform can help you with your manufacturing performance and availability.
How do you define machine downtime reasons to calculate OEE?
OEE in FourJaw tracks the performance and availability of your machine using the downtime reasons logged by machine operators. To do this, you need to choose an OEE category for each of your downtime reasons.
Anything that means that your machine is not available to use because it is broken, undergoing maintenance or being reprogrammed etc. is set to downtime OEE category Availability. Everything else is set to performance.
Examples of Availability Downtime reasons include: Machine fault, Tool broken, Set Up, Unplanned maintenance etc
How does FourJaw's OEE System benefit Production managers?
FourJaw 's OEE monitoring system provides several benefits, ideally suited for Production Managers, including:
See trends in OEE / Availability / Performance / Quality over 3 or 6 months – so that you can set targets and celebrate success.

See OEE broken down by Factory, Cell or Machine so that you can focus continuous improvement efforts in the right place.

Drill down and see what downtime reasons are affecting performance and availability so that you can try and solve issues.

See how productivity differs across different shifts.
How does FourJaw's OEE software benefit factory floor managers?
FourJaw's OEE monitoring software provides two key benefits to factory floor managers. These include:
Ability to investigate cycle times and drive reductions by comparing cycle times on different machines and across shifts.
Ability to investigate the number of stops per shift and drive reduction by comparing different machines and shifts.
HOW DOES FOURJAW CALCULATE OEE?
FourJaw's OEE software reports on three key metrics Availability, Performance, and Quality. The results of these metrics are used to generate an overall OEE percentage.
OEE and Performance, Availability and Quality all start at 100% and are reduced when issues are logged. OEE calculations should not result in figures over 100%.
Availability
The availability measure monitors a machine, cell, or factory's actual runtime versus planned runtime. This data can be used to highlight how much-unplanned downtime and quality issues are impacting your factory's productivity.
Availability = ((Total time in the period – downtime logged to availability issues) / Total time in the period) x 100
Performance
The performance measure reports on output productivity by comparing the number of units produced in a time period versus the number of units which could theoretically be produced.
Performance = ((Total time in the period – downtime logged to performance issues) / Total time in the period) x 100
Quality
The quality measure is the ratio between good units produced and the actual number of units produced.
Quality % = ((Uptime logged in time period - time labelled bad)/Uptime logged in time period) x 100