Automatically capture machine data to improve productivity, gain capacity and support continuous improvement efforts.
Understand what's happening on your factory floor, identify top downtime reasons and take corrective action.
Improve operational efficiency and reduce wasted energy usage to reduce the cost of manufacturing.
Discover The Cure For Your Production Line Bottlenecks
Whether you're manufacturing medical instruments, apparatus, implants or machines, we know your manufacturing processes have to guarantee the highest levels of quality and regulatory adherence by maintaining Good Manufacturing Practice.
This can make implementing process improvements difficult to implement. FourJaw machine monitoring software can cure production inefficiencies without impacting your quality procedures or regulatory commitments.
BOOST PRODUCTIVITY, REDUCE COSTS
Decrease Cost Of Goods By Increasing Productivity
FourJaw's manufacturing analytics platform monitors and analyses production data and provides actionable insight to boost machine productivity and production capacity, reducing your overall cost of production.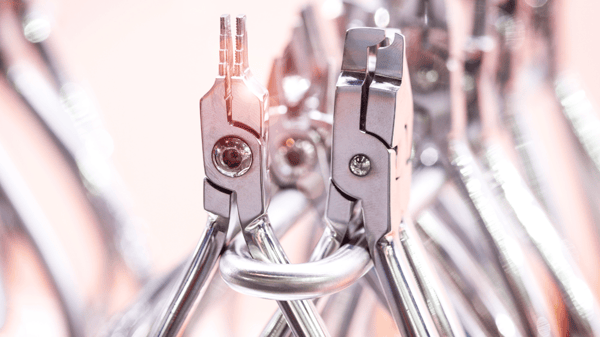 UNLOCKING OPERATIONAL EFFICIENCY
Remove Complexity From Your Production Process
According to the World Health Organisation (WHO), there are an estimated two million different kinds of medical devices on the world market, behind each one, is a manufacturer, designing, engineering and producing them, whilst navigating the highly regulated and complex supply chain to meet the highest of quality standards.
The complexity of manufacturing in the medical sector can lead to inefficiency. FourJaw enables manufacturers to overcome and master the complexity through technology.
Discover how. Book a free, no-obligation demo today.
Run Your Factory With Surgical Precision
Using Industry 4.0 machine monitoring technology, we provide you with accurate machine data insight to help you understand the past, manage the present and optimise your manufacturing processes for the future.
Real-time decision-making for productivity improvements
Root-cause problem-solving
Confident capital expenditure and hiring
Improved communication and culture
Focused continual improvement efforts
Improve Sustainability
YOUR DATA, CONNECTED.
Three simple steps to factory digitisation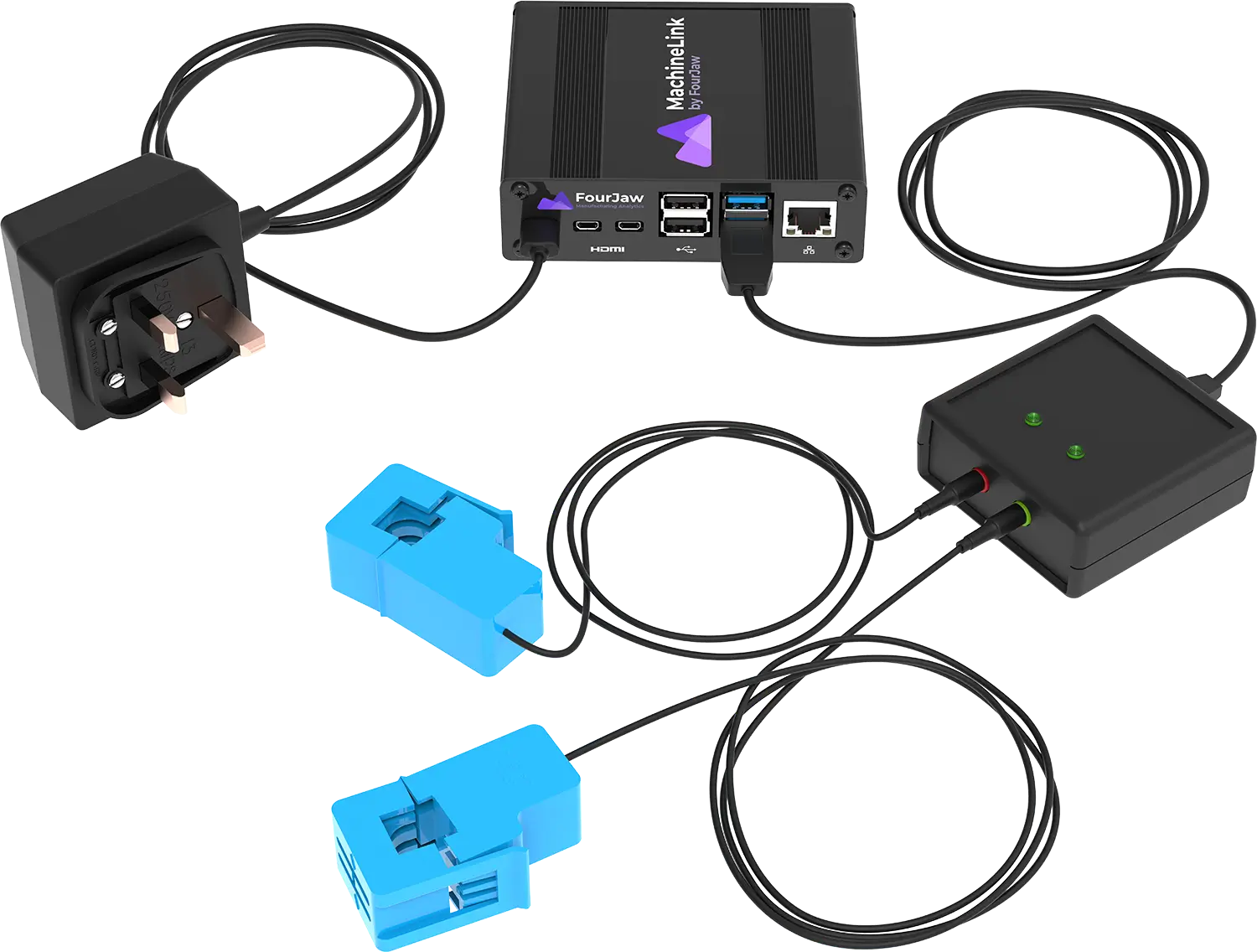 Uses a standard 3-pin plug for the power supply. Alternatives are available for installs out of the UK.
Sensors simply clip onto your machine's power cable.
Robust and compact metal-cased MachineLink IoT hardware locates on to the machine Connect to Internet via Wi-Fi or Ethernet cable.
The sensor box connects the sensors to MachineLink.
Install MachineLink Hardware
Simply supply power to the FourJaw MachineLink IoT device, then attach the sensor to your machine's power cable.
Connect the MachineLink to your factory's WiFi network (or simply wait for it to connect if you requested pre-configuration).
Log in to the secure, cloud-based FourJaw Web App and data from your factory floor will start to pull into the platform within a few minutes.
Frequently Asked Questions
Which machines can use FourJaw?
FourJaw's machine monitoring solution is designed for use on all types of manufacturing equipment.
In the medical device manufacturer industry, our analytics software is frequently utilised on:
CNC Lathe
CNC Turning
CNC Milling
Drilling
Grinding
Inspection
Heat Sealing
Packaging
Weighing
How can medical device manufacturers benefit from analytics?
How can medical device manufacturers benefit from analytics?
Manufacturing analytics allows medical device manufacturers to:
Make informed, data-driven business decisions
Improve OEE

and drive ROI
Reduce downtime - learn more about

downtime monitoring

with FourJaw
Optimise processes with real-time data
Improve quality
What are some current challenges facing the medical device industry?
Challenges currently facing the medical device industry include:
Concerns around quality:

In this high-stakes industry, it's essential that all devices are manufactured to an acceptable quality; failure to do so will lead to delays, costly recalls, shutdowns and even lawsuits.
Supply chain challenges:

Huge global demand require medical device manufacturers to be productive throughout the year. Reliable supply chairs are essential.
Regulations:

The medical device industry abounds with high quality compliance and risk management regulations; failure to meet these will prove costly.
Outdated processes:

Production and development of medical devices is a long, costly and highly regulated process. Manufacturers who are using modern production processes to maximise manufacturing processes and efficiency will have a competitive advantage over those who aren't.