Understand what's happening by machine, cell, line or factory site in real time.
Gain production capacity, enabling you to make more products with the same resources.
Free Your Production Line Of Turbulence
Whether you're making flaps for a 737, a propulsion unit for an A380, or a spacecraft steering system, efficient manufacturing is essential in the aerospace industry.
FourJaw's technology allows you to manufacture parts to the highest quality & safety standards whilst running an efficient and profitable production process by measuring OEE in real-time.
UNLOCK EFFICIENCY, BOOST CAPACITY
Drive Productivity, Gain Capacity
By monitoring and analysing production data, FourJaw will enable you to drive productivity, gain production capacity and lower your cost of goods, resulting in a more efficient and profitable manufacturing process.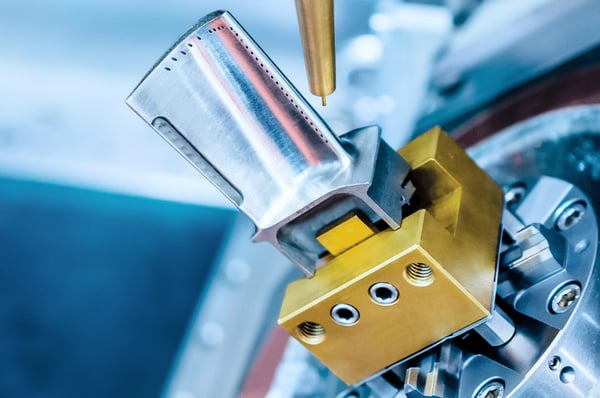 IMPROVE PROCESSES WITHOUT THE HASSLE
Gain Visibility, Drive Performance And Availability In Real Time.
Can you investigate productivity issues in real-time, or do you have to wait until the end of a shift?
Process improvements can be challenging due to stringent quality constraints within the aerospace industry, making it even more important to keep the spindle running and remove causes of unnecessary downtime.
Benefits Of Machine Monitoring Software With FourJaw
Take control, drive efficiency and increase productivity of your factory floor.
AUTOMATIC DATA CAPTURE
FourJaw automatically gathers machine data so you can finally ditch the clipboard and spreadsheets and drive your lean manufacturing efforts.
MONITOR ENERGY USAGE & CARBON FOOTPRINT
Understand and track energy usage
By machine, cell, production line or factory, in real-time and over time. Support sustainable manufacturing by seeing how energy usage translates to costs and carbon footprint to motivate change.
IMPROVE EMPLOYEE COMMUNICATION
Aerospace Manufacturing environments are typically very busy and complex which can lead to inefficiency in things like peer-to-peer communication. FourJaw makes everyone's job easier, from the top floor to the factory floor, using technology to provide complete visibility, leading to a more engaged workforce.
BENCHMARK & OPTIMISE FACTORY PERFORMANCE
FourJaw machine monitoring software enables manufacturers to unlock productivity by providing data insight to understand the past, manage the present and optimise for the future by informing your continuous improvement strategy with actionable insight.
ENABLE YOUR TEAM TO BE THE BEST THEY CAN BE
"FourJaw's customer success team supported me to communicate this effectively and once the team understood how the data was being used, it facilitated conversations which were used to inform and educate operators, which lead to a greater sharing of best practices, changed behaviours and enhanced machine utilisation and productivity".
WHAT'S IN THE BOX?
Three simple steps to factory digitisation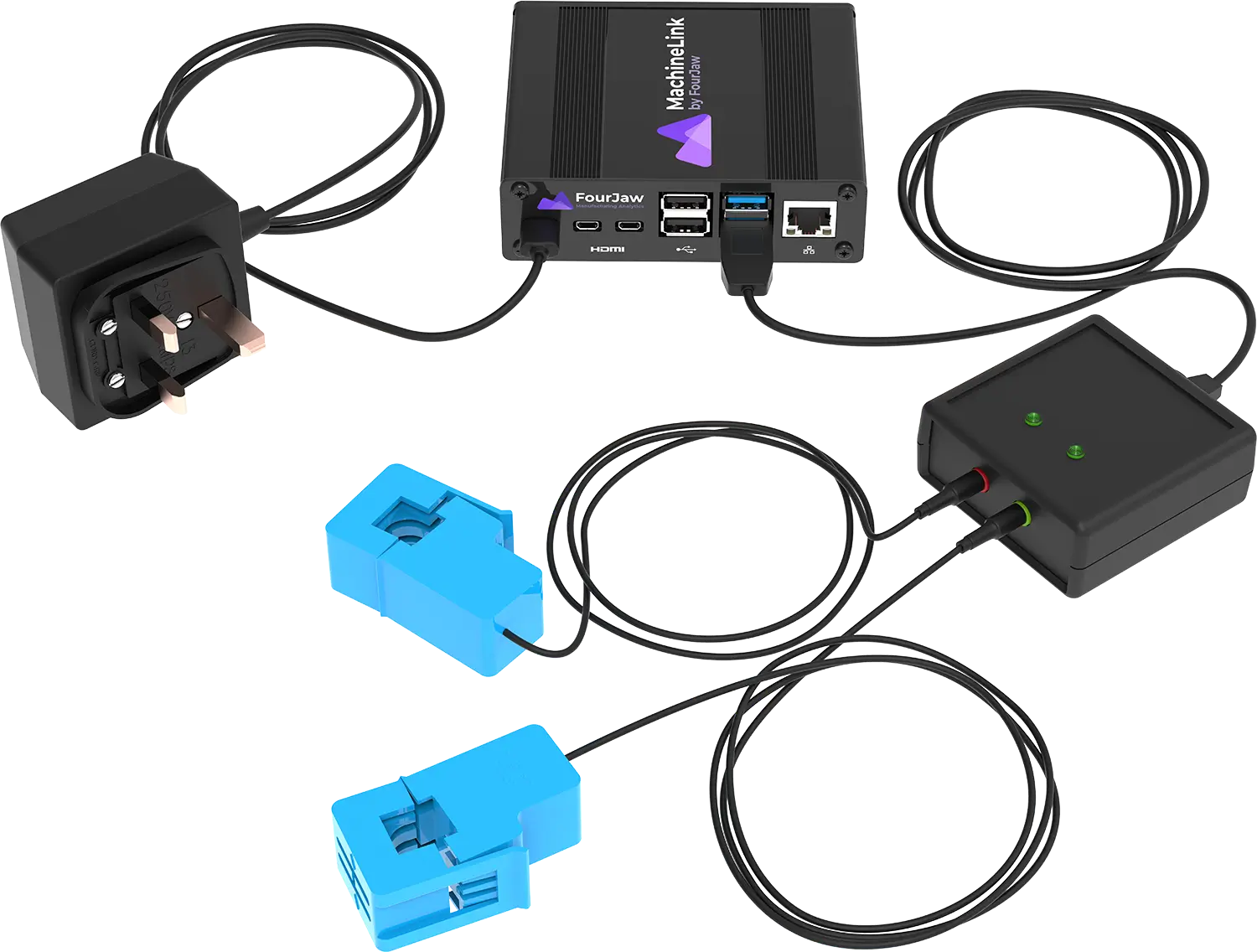 Uses a standard 3-pin plug for the power supply. Alternatives are available for installs out of the UK.
Sensors simply clip onto your machine's power cable.
Robust and compact metal-cased MachineLink IoT hardware locates on to the machine Connect to Internet via Wi-Fi or Ethernet cable.
The sensor box connects the sensors to MachineLink.
Install MachineLink Hardware
Simply supply power to the FourJaw MachineLink IoT device, then attach the sensor to your machine's power cable.
Connect the MachineLink to your factory's Wi-Fi network (or simply wait for it to connect if you requested pre-configuration).
Log in to the secure, cloud-based FourJaw Web App and data from your factory floor will start to pull into the platform within a few minutes.
Frequently Asked Questions
What Aerospace Machines Can Use FourJaw?
FourJaw's advanced machine monitoring works on all types of manufacturing equipment, and is suitable for all factories.
In the Aerospace and Aviation industry, our analytics software is often used on the following manufacturing machines:
CNC Lathe
CNC Turning
CNC Milling
Drilling
Oxy-fuel cutting machines
Laser Cutting
Waterjet Cutting
Plasma Cutting
Grinding
Inspection
Packaging
Weighing
Learn more about
CNC machine monitoring
with FourJaw.