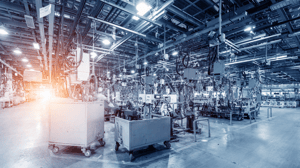 UK MANUFACTURING PRODUCTIVITY INDEX
A QUARTERLY LOOK AT THE UK'S MANUFACTURING PERFORMANCE.
Q3 2023 UPDATE
UK manufacturers boosted productivity by £9.4bn during the last year
FourJaw's quarterly analysis of ONS data shows that UK manufacturers have achieved significant output and productivity improvements, despite a slight slowdown in activity this summer.

The UK manufacturing sector was 6.6% more productive in the third quarter of 2023 than the same period in 2022, driven primarily by improvements in the automotive, aerospace and broader transport equipment sectors.
Q3 UK HEADLINE PERFORMANCE
Source: Office of National Statistics & FourJaw Manufacturing Analytics 2023
152.4
bn
Total output value of UK Manufacturing (Up 6.5% YOY)
6.6
%
PRODUCTIVITY INCREASE ACROSS THE SECTOR (WORTH £9.4bn)
1.1
m
Average output value per manufacturer (Up 8.2% YOY)
8.2
%
Productivity Increase per manufacturer (worth £84.5k each)
UK MANUFACTURING PRODUCTIVITY INDEX
The total value of UK manufacturing output in the third quarter of 2023 was £152.4bn. Although this was £9.3bn more than the same period in 2022, it was £2.9bn lower than Q2 2023 – the first quarter-on-quarter reduction in manufacturing output since the start of 2021.
Year-on-year improvements in output and productivity were achieved despite the number of active UK manufacturers falling from 138,000 to 136,000 in the same period. Output per manufacturer increased by 8.0% between Q3 2022 and Q3 2023, while productivity per manufacturer was up 8.2%. On average, each active UK manufacturer produced goods worth £1.12m in Q3 2023, up from £1.04m the year before.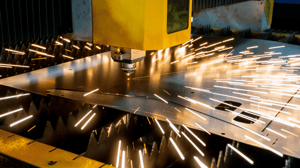 It would be naïve to not acknowledge the challenges faced by the manufacturing sector, caused by world events over the last 3 years, however, the optimists in us are confident that the sector will overcome the short-term challenges and maximise the opportunities that arise, whether through the growing trend to re-shore manufacturing or by driving productivity with the adoption of technology to create a competitive advantage.
Subsector output and productivity
The motor vehicles and transport equipment sector achieved the most significant year-on-year improvements. Output in Q3 2023 was £5.3bn higher than in Q3 2022, supported by a 19.7% increase in productivity worth £5.1bn across the sector.
The food production and electronics (computer, electronic and electrical products) sectors also significantly improved output and productivity. Food production achieved a 6.2% productivity gain year-on-year worth £1.4bn, while electronics delivered a 9.8% productivity improvement worth £1bn to the sector in Q3 2023.
Q3 2023 YEAR-ON-YEAR CHANGE
Subsector Performance
Manufacturing Productivity Index | CEO VIEWPOINT
Chris Iveson, CEO and Co-Founder of FourJaw Manufacturing Analytics provided his thoughts and perspective following the release of Q3's manufacturing productivity index.
"Manufacturers face significant challenges and uncertainties right now. However, many do so from a position of strength, having delivered improvements in output and productivity over the last two years.

The value of UK manufacturing output has soared post-pandemic. Some of this is inflation, which reached almost 20% for goods leaving factories last year. Once we adjust for that, we see manufacturers achieving incredible productivity improvements in 2022 and 2023.

Order books have been growing from domestic and international markets, and we've seen manufacturers re-shore work that was outsourced overseas. That's filled previously underused production lines, led to investment in new machines and factory expansion, and driven greater use of smart technologies to find additional capacity within existing production lines.

"There are many reasons to be cheerful. Automotive has rebounded well after addressing supply-chain issues, and aerospace companies are enjoying their largest order books ever. Despite this, manufacturers are understandably cautious and looking for ways to boost agility and productivity without investing in additional assets."
HOW MUCH MORE PRODUCTIVE COULD YOUR FACTORY BE?
Manufacturing productivity can have a huge impact on a business's overall operational performance, competitiveness and profitability.
It is a key performance indicator that is just as important a 'health barometer' to an individual business as it is to the UK manufacturing sector as a whole.
There are various strategies that manufacturers can employ to increase productivity. One approach is to invest in technology and automation, which can streamline processes and lead to a reduction in manual labour, fewer errors, and increased production speed.
In addition, efficient supply chain management, minimising waste, and adopting sustainable practices all contribute to overall productivity. Regular evaluation and optimisation of workflows, along with fostering a positive work environment, can also have a significant impact.
When manufacturers proactively use FourJaw's technology, they can achieve productivity gains of anywhere between 10-20% which can increase output capacity by as much as 30%.
Across the entire UK manufacturing sector, that would be a productivity boost of £61bn.
For a manufacturer producing £4.5m worth of goods this year, that means the ability to get £1.3m more output in 2024 from their existing machines, people and production lines.
Looking to increase your manufacturing productivity levels? Learn more about our technology and calculate your potential ROI via the links below.
Methodology
FourJaw Manufacturing Productivity Index
FourJaw's data team analysed a range of data provided by the Office of National Statistics (ONS) to create a rolling five-year picture of output and productivity for the whole UK manufacturing sector and at the subsector and company level. Sources considered included the ONS's index of production and producer price inflation datasets, and UK business activity, size and location statistical bulletins. Productivity levels were calculated by reducing the value of output figures by the corresponding inflation rate. Company-level figures are averages, based on the value of output and productivity per assumed active UK manufacturer at the time.