MAXIMISE OPERATIONAL EFFICIENCY
TECHNOLOGY THAT INFORMS CHANGE
FourJaw machine monitoring is designed to give you and your workforce the data you need to overcome operational challenges, improve sustainability and drive a culture of continuous improvement.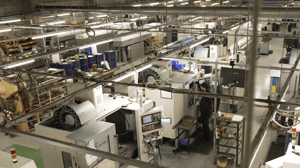 Understand which machines are more productive and why
Get a real-time view of your factory operations to identify where processes can be improved
Give machine operators the tools they need to support continuous improvement
Understand the cost of energy used by machines, cell, production line or factory
COMPLETE FACTORY VISIBILITY WITHOUT THE COST
Traditional Machine Monitoring Vs Cloud-Based Machine Monitoring
Move over traditional machine monitoring solutions. We're on a mission to make access to machine monitoring as affordable and accessible as possible.
Works on Any Machine, Regardless of Age or Brand
Regular Security & Feature Updates Included
Productivity & Energy Monitoring features
Our Technology is trusted by manufacturers of all sizes