Manufacturing facilities are busy and complex environments that have a multitude of processes happening at the same time, and in a lot of environments, these processes must occur in perfect synchronisation to ensure goods are delivered on time and to budget.
Many manufacturers put continuous improvement strategies in place so they can identify, improve and, in some cases, remove ineffective and inefficient processes altogether. Research shows that inefficient processes can erode a significant portion of a company's revenue, with figures reaching as high as 20 to 40%. In a climate of elevated expenses, it becomes imperative for manufacturers to avoid financial losses stemming from inefficiency.
In this article, we'll explore what process and production optimisation are, the differences between the two, and how they differ from things like continuous improvement. Most importantly, we'll outline some key process and production optimisation techniques that you can implement in your own manufacturing operations to improve efficiency and drive production.
Defining Process Optimisation
Process optimisation in manufacturing is the practice of enhancing organisational efficiency by improving specific processes. While there are various process optimisation strategies and techniques, the ultimate goal is to create a streamlined manufacturing process and ultimately lower manufacturing costs and maximise productivity.
Process optimisation can focus on any area where there are inefficiencies that impact cost, quality, or productivity. For example:
Machinery
With regard to machinery, process optimisation involves ensuring machines are used optimally. This includes limiting unplanned downtime, reducing maintenance time and costs, discovering bottlenecks, and so on.
SMED (Short for Single-Minute Exchange of Die) is a lean manufacturing method that's used for a quick, simplified, and efficient production setup and changeover from one product or process to another. Its aim is to reduce non-productive downtime and stoppages.
SMED principles allow manufacturers to reduce machine downtime that occurs between part-to-part set-up on a machine, and the steps tend to take place in either external or internal set-up components.
Internal steps occur when machinery or processes are stopped, while external steps occur while machinery or processes are progressing. Ultimately, getting machines up and running as quickly as possible, while optimising changeover processes, represent good examples of process optimisation methods.
Operating Procedures
Operating procedures comprise of any operations necessary for the running of an organisation. Most manufacturers are likely to have a set of standard operating procedures (SOP) that aim to minimise waste and maximise efficiency; process optimisation involves assessing these procedures and enhancing them where possible.
Again, SMED can be used to optimise operating procedures as part of a wider process optimisation strategy. SMED principles can be applied to any changeover process, so a review of these across all operating procedures will likely reveal inefficiencies that a SMED approach can minimise.
The Importance of Process Optimisation
Inefficient processes result in unplanned downtime, while optimised processes lead to greater efficiency. The complexity of most manufacturing industries demands that all processes are effective; those that aren't will have a detrimental impact on others around them.
Ultimately, the more well-orchestrated your processes and procedures are, the more you'll produce, the less you'll waste, and the more you'll profit. Manufacturers should strive for processes that deliver results with the least amount of input, and product optimisation is the practice they can use.
The role of data in process optimisation
Manufacturers can't make informed decisions without accurate, actionable data insight. Access to reliable machine data empowers both machine operators and the management team to identify inefficiencies that may be causing production bottlenecks and take corrective action to deliver improved processes that will directly contribute to more efficient operations.
Giving machine operators the tools to see, in real-time what's happening on their machine allows them to proactively respond to process inefficiencies, resulting in jobs being performed more efficiently, leading to better machine utilisation and OEE.
Now we've gone over process optimisation and its importance to manufacturers, let's look into production optimisation.
What Is Production Optimisation?
In manufacturing, Production optimisation refers to practices designed to optimise everything that can affect production. With the ultimate aim of having a production process that leads to increased production capacity. These may include optimising:
The factory/cell layout
Shift patterns
Cycle times
Batch sizes
Quality control
Resource allocation


What's the Difference Between Process Optimisation and Production Optimisation?
The main difference between process optimisation and production optimisation is that the former focuses on enhancing the efficiency of a finished product in its stages, whereas the latter refers to a set of practices designed to increase productivity in the production system.
Process optimisation techniques involve eliminating necessary or inefficient steps or processes within a production system. Ultimately, it's about making each step as efficient as possible to maximise production optimisation methods.
On the other hand, production optimisation techniques may utilise real-time data to assess the causes of inefficiencies that in turn can be used to optimise elements of production such as cycle time, shift handover, machine or workstation layout, and so on..
While both strategies use different methods, they share the same goal, and manufacturers will have the most success in achieving this goal when they integrate both process optimisation and product optimisation practices. With this in mind, it's when manufacturers can combine the two into an integrated strategy.
Let's take a look at some of the benefits of doing this.
Process Optimisation and Production Optimisation: The Benefits
The cumulative effect of making small, incremental changes to processes can, over time, lead to significant improvements in overall efficiency and output. Here are a couple of examples of what manufacturers can gain when effectively implementing process and production optimisation changes.
Reduce unplanned downtime
Unplanned machine downtime can create inefficiencies and reduce production efficiency. It can occur for multiple reasons, but common examples include machine malfunctions, operator availability and maintenance.
Downtime is expensive and can lead to production bottlenecks, wasted resources, and increased manufacturing costs. There are also the possibilities of more indirect costs, like reputational damage as a result of late deliveries or quality issues.
To mitigate the impact of unplanned and unproductive machine downtime can have on production, it's essential for manufacturers to track it accurately. Learn why understanding machine downtime is essential for manufacturers.
Improved operational decision-making
By using machine monitoring software, manufacturers can get more accurate insights into the performance of their machines and full visibility of what's going on across their factory floor. The insight gained, enables operators and managers to make data-driven decisions that will underpin both process and production optimisation strategies.
Here's an example of how accurate and real-time machine data monitoring enabled our customer Westley Plastics to improve their production processes.
Westley Plastics had identified that their current process of manually collecting shop floor data was restricting them from being able to confidently identify where improvements to their processes and production methods could be made. Despite operating 24 hours a day, it wasn't clear whether machine utilisation and productivity were consistent throughout any 24-hour period. Gaining greater visibility of the shop floor was key, as it'd help the company identify capacity and cycle times while focusing the workforce on the processes that required and benefited most from their skills.
Using the data insight from the FourJaw platform, Westley Plastics was able to improve cycle times, meaning machines could run for triple the time in an automated way.
Integrated process and production optimisation methods use cases
Previously, we discussed how Westley Plastics was able to improve its processes and increase production as a result of machine monitoring data. Let's look into a couple more examples of manufacturers that have optimised their processes and gained productivity.
Use Case 01: Enabling efficient lights-out manufacturing
We worked with a company that grinds carbon-cutting tools that had invested in multiple robot-loaded CNC machines to enable lights-out manufacturing. Evenings and weekends were intended to provide extra robot-loaded capacity, but when Monday morning came around, employees would come in to find a pile of scrapped parts. Unable to identify the root of the problem, the client stopped lights-out production, meaning they made no ROI on their robot-loaded equipment.
After contacting us, we installed our machine monitoring software on the problematic robot-loaded grinding machines. This gave the manager visibility into the exact operation of the machines, even on weekends when the factory was unstaffed. FourJaw's data made clear that the failure always happened on the third operation. From here, the production manager was able to implement a plan where the first two operations could be done lights-out on evenings and weekends using the robot-loaded CNCs, whilst the challenging third operation would be completed by skilled machinists during the day shift.
The results were phenomenal. Not only did it slash 20% off production time, it also increased machine productivity significantly, increased the feed rate on the robot-loaded CNCs, and engaged the machinists, who were able to fully utilise their skills with the challenging third operation.
Use Case 02: Achieving production time savings of 25%+
KSW Engineering specialises in medium to heavy precision machining and welding. When they signed up with us, they had three key challenges:
Their night shifts were less productive than day shifts
They didn't have an overnight manager to cover the shopfloor
They had no way to understand the root cause of the issue
Using the machine data captured by FourJaw, managers identified that an operator was taking twice as long to change over a component as his day shift colleague on one of the machines in the cell. When asked, the operator described how he was performing 100% inspections on all parts to ensure no scrap was produced. The night charge was able to demonstrate how checking 10% of features with the machine stopped, he'd be able to take the part out (assuming these dimensions were correct). The operator could then carry on machining the next item and completing his inspection report while the machine was running.
A simple fix, but one that wouldn't have been identified without access to the relevant machine data! The company's process change led to significant results, with night-shift productivity going from 34 per cent on day one to 47 per cent machine utilisation on day two and constant from that day onward.
Understanding the difference between process optimisation, production optimisation and continuous improvement
Process optimisation and continuous improvement are both strategies that organisations use to enhance their operations and achieve better results. However, there are some distinct differences between the two.
The main difference is that process optimisation refers to making significant changes to specific processes, whereas continuous improvement is a broader, ongoing approach to improving operations across a business. Process optimisation is less frequent, and occurs when in need of an overhaul or rethink.
Continuous improvement is an ethos that aims to make gradual but consistent improvements across an organisation.
Furthermore, process optimisation involves more of a top-down approach, and may take time to implement; contrastingly, continuous improvement takes a more bottom-up approach, with all employees encouraged to actively engage in identifying and implementing small improvements.
Ultimately, integrating both strategies will have the best impact on improving organisational efficiency.
A lot of what we've outlined above also applies to the differences between production optimisation and continuous improvement. Production optimisation refers to specific actions to increase productivity and generally takes a more top-down approach. This is in contrast to continuous improvement, which is more of an attitude of improvement that spans all areas of the company, taking a bottom-up approach to engage all employees.
More helpful articles
Book a Demo of FourJaw
Request a demo today and discover how FourJaw's IoT platform can help transform your manufacturing operations, saving valuable resources and strengthening your bottom line.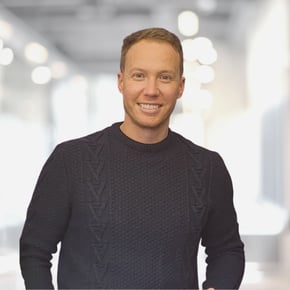 James Brook
A passionate and experienced Marketing Leader with a background of 15+ years in developing and implementing marketing, brand, and product strategies for companies across a breadth of sectors and geographies. Over the last five years, James has worked in the technology space, having led the global marketing function at an Industrial monitoring and control company and more recently joining FourJaw as Head of Marketing & Communications. FourJaw is a SaaS business that is helping to change the world of manufacturing productivity through its IoT machine monitoring platfom.