Over the last few months, we have written various articles examining how manufacturers could offset the inflationary pressures caused by the huge increase in energy costs.
On the 9th of January 2023, the Government announced a new Energy Bills Discount Scheme (EBDS) which will come into effect from April 2023 through to April 2024 for eligible non-domestic consumers in Great Britain and Northern Ireland.
The current Energy Bill Relief Scheme announced in September ends in March 2023. The scheme offered an unprecedented amount of financial support to businesses and public sector organisations such as schools and hospitals by providing a discount on wholesale gas and electricity prices.
Eligible manufacturers and non-domestic customers facing significantly inflated gas and electricity prices in light of global price pressures, triggered by world events, have benefitted from the discount since 1 October 2022.
Although the Government has been transparent that current levels of support were time-limited and intended as a bridge to allow businesses to adapt, it has not made the news any easier for many manufacturers and businesses to learn about the forthcoming changes.
The BBC news has been reporting on the reaction from manufacturers and businesses throughout the UK, with Charlene Lyons, chief executive of Black Sheep brewery saying,
"Energy prices will still absolutely soar for us and for everybody else as well"
The new scheme has been described by the government as 'striking a balance between supporting businesses over the next 12 months and limiting taxpayer's exposure to volatile energy markets', and has capped the support available to £5.5 billion based on estimated volumes. To find out more about the scheme please visit the Energy Bills Discount Scheme page on the Government's website.
So that's some background to the current energy support situation facing manufacturers and non-domestic customers in Great Britain and Northern Ireland, we now want to look at how and what options are available for manufacturers, who are major consumers of energy and are already facing a host of inflationary and supply chain issues following the world events of the last few years.
Improving Productivity Is The Biggest Opportunity Manufacturers Have To Help Offset Inflationary And Rising Energy Costs
Whether you're a small-batch manufacturer or a volume manufacturer, understanding your productivity levels and knowing where you can make process improvements that will have a positive impact on your production costs is one of the biggest levers you can pull to offset the rising prices you're currently facing.
A quick 'Google' about manufacturing productivity will show you various articles that all talk about the same thing 'productivity' is king when it comes to manufacturing and as reported by MakeUk in Q3 2022, 74% of UK manufacturers cited productivity as a top driver to make investments in their Q3 Manufacturing Investment health survey.
How can manufacturers improve productivity without significant levels of CapEx investment?
Start by looking at what 'smart technology' options are available to you. At a recent event we attended, an investment manager from Lloyds Development Capital (LDC) commented...
Accessible Technology is providing the opportunity for value creation by creating growth opportunities. We tell manufacturers to make sure you're acting in the most productive way when it comes to adapting tools to improve productivity in their factory.
Drive manufacturing productivity to offset energy price rises with machine monitoring
When simply turning machines off isn't an option, looking at ways of being more efficient to make savings is key. One such lever manufacturers can pull is by utilising smart technology such as machine monitoring that enables almost instant improvements to productivity and offers a rapid return on investment, making the savings being sought much more accessible and achievable than you may think.
Connecting manufacturing equipment to machine monitoring software such as FourJaw's productivity improvement software improves production visibility in real-time, providing key productivity measures such as utilisation and Overall Equipment Effectiveness (OEE).
The accurate data enables management and the machine operators to understand the current utilisation, availability, performance and quality levels and, importantly, what the main causes of lost productivity are, by machine, cell/production line or factory.
This insight can then be used to make informed decisions to improve production processes, making them more efficient and facilitating a continuous improvement culture.
Manufacturers that use our machine monitoring platform experience a number of benefits, enabling them to:
Improve production uptime
Improve communication across the factory floor
Understand what type of work is most profitable
Understand which shifts are more efficient and why
Know where and what process improvements will have the biggest impact
Reduce production backlogs
Plan resources more efficiently
Enhance data quality so you can make an informed, confident decision
Remove, inaccurate and manual paper-based processes
Reduce manufacturing costs
So if you're one of the many manufacturers, who right now, is looking to protect your margins and ensure your business can remain competitive whilst riding out the current economic conditions, we'd recommend starting by looking at the productivity of your machines before anything else...the rest will follow.
Read how manufacturers just like you are benefiting from machine monitoring to drive productivity in our recent customer success stories.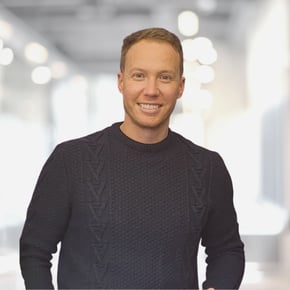 James Brook
A passionate and experienced Marketing Leader with a background of 15+ years in developing and implementing marketing, brand, and product strategies for companies across a breadth of sectors and geographies. Over the last five years, James has worked in the technology space, having led the global marketing function at an Industrial monitoring and control company and more recently joining FourJaw as Head of Marketing & Communications. FourJaw is a SaaS business that is helping to change the world of manufacturing productivity through its IoT machine monitoring platfom.