Grow Productivity And Profitability
FourJaw machine monitoring software is specifically designed for manufacturers looking to do more with less and find new efficiencies in their production process without wasting time or money on new equipment.
DRIVE PRODUCTIVITY
Get visibility of key production metrics, such as OEE or Utilisation to drive productivity improvements.
GAIN CAPACITY
Use accurate data to understand how well your machines are being utilised to make informed decisions to gain capacity.
GROW PROFITABILITY
Gains in productivity & capacity enable you to manufacture more products with the same resources, helping to grow profitability.
DRIVE SUSTAINABILITY
See how energy usage translates to costs and carbon footprint to motivate change. Track energy usage by machine, cell, production line or factory, in real-time and over time.
How much could your output capacity increase in just 4 weeks?
CONTINUOUSLY IMPROVE
Drive Efficiency And Increase Productivity
FourJaw machine monitoring software enables manufacturers to unlock productivity by allowing them to understand the past, manage the present and optimise for the future to drive continuous improvement.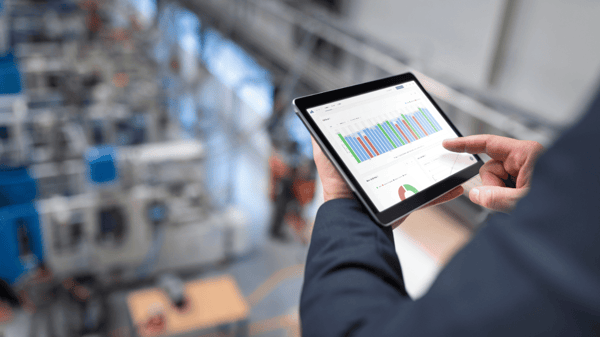 Root cause problem-solving
Locate bottlenecks in the production process to drive productivity and gain capacity.
Real-time decision-making
See how production is progressing in real-time, allowing you to take immediate action.
FourJaw's live alerts empowers seamless collaboration for efficient manufacturing.
Accurate Planning & Quoting
Plan effectively, cost jobs accurately and analyse the efficiency that work-to lists are executed.
See how energy usage translates to costs and carbon footprint to motivate change.
Data replaces opinion, resolving runtime discrepancies with ease and confidence.
WHAT'S IN THE BOX?
Three simple steps to factory digitisation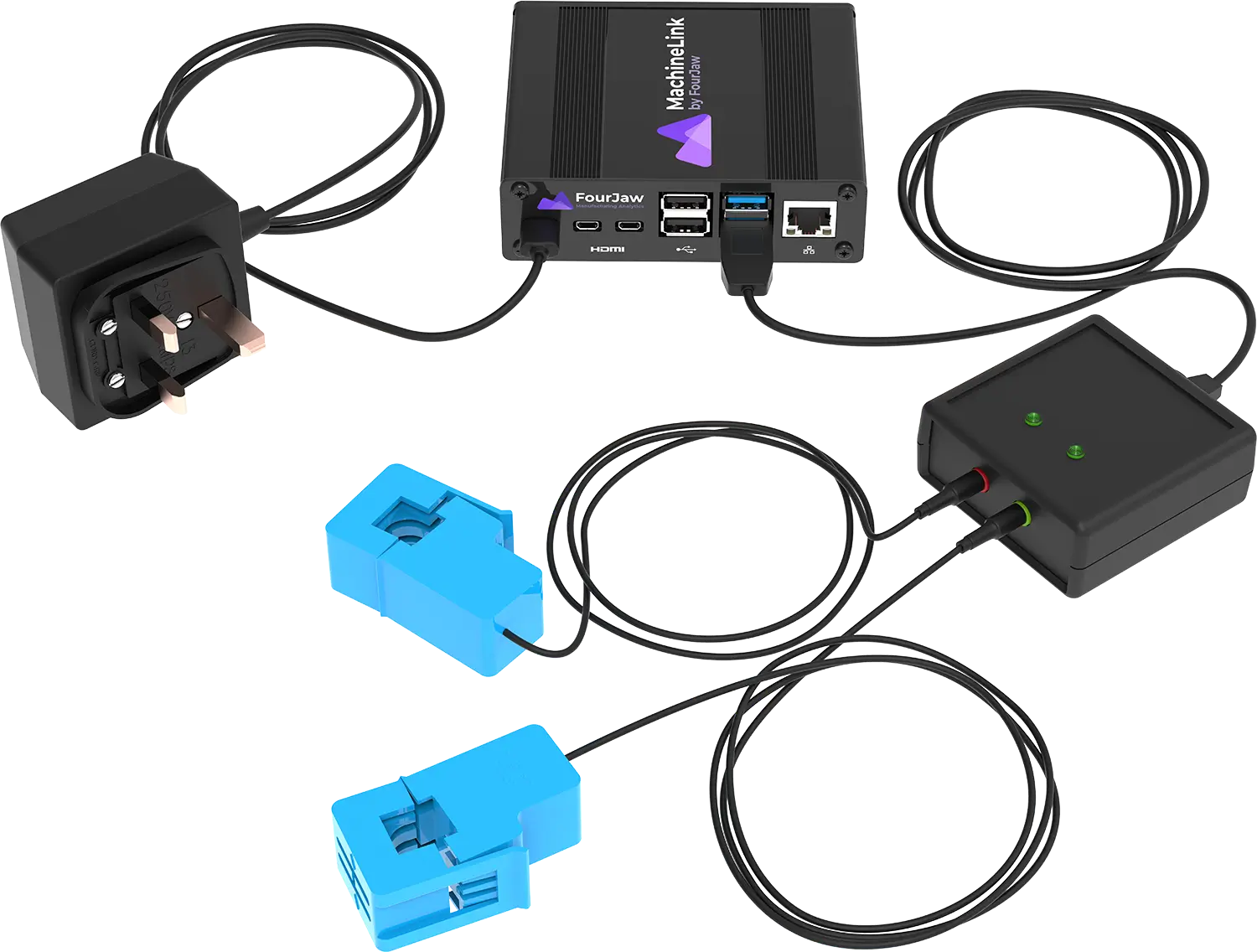 Uses a standard 3-pin plug for the power supply. Alternatives are available for installs out of the UK.
Sensors simply clip onto your machine's power cable.
Robust and compact metal-cased MachineLink IoT hardware locates on to the machine Connect to Internet via Wi-Fi or Ethernet cable.
The sensor box connects the sensors to MachineLink.
Install MachineLink Hardware
Simply supply power to the FourJaw MachineLink IoT device, then attach the sensor to your machine's power cable.
Connect the MachineLink to your factory's WiFi network (or simply wait for it to connect if you requested preconfiguration.)
Log in to the secure, cloud-based FourJaw Web App and data from your factory floor will start to pull into the platform within a few minutes.
MACHINE MONITORING MADE EASY
What's different about FourJaw?
Compatible With Any Machine
Our MachineLink IIoT device can be easily and quickly self-installed on any manufacturing machine, regardless of brand, type or age.
With a simple self-installation, there's no need for upfront installation costs or costly ongoing maintenance contracts.
Can be Installed in Minutes
Our MachineLink hardware can be installed in as little as 10 minutes and it doesn't require any PLC integrations.
YOUR FACTORY'S NEW BEST FRIEND
What our customers say
"FourJaw's machine monitoring solution has helped to quantify our initial thinking and put some value to it so that we could make more-informed data-based decisions. The recent product enhancements have made FourJaw a solution that is delivering real benefit from the top floor to the shop floor, it's the team's operational tool"
"Initially, the guys on the shop floor were a little reluctant but soon became interested to see how it worked. It didn't take long for them to become competitive. We have seen examples where the guys have competed to get the best machine efficiency scores resulting in utilisation going from 75% to 100%".

ALL YOU NEED TO INCREASE PRODUCTIVITY
FourJaw Features
Downtime Reasons
Benchmarking
Live Data
Alerts
Job Tracking
Energy Monitoring
Downtime Reasons
Find out top reasons for machine downtime, by factory, cell, or machine. Take action where it matters most.
Benchmarking
Know your utilisation and OEE so you always know when things are going well (or not so well).
Live Data
See how your machines, lines, cells, or factories are doing without constantly patrolling the factory floor.
Alerts
With immediate notifications, factory managers can take quick action to prevent costly downtime.
Job Tracking
Keep track of your jobs and analyse the efficiency that work-to lists are executed.
Energy Monitoring
See how energy usage translates to costs and carbon footprint to motivate change.
Drive Growth & Understanding
By monitoring and analysing machine data, FourJaw will enable you and your operators to make your machines run productively and profitably.


Identify Downtime Reasons
Real-time data provides the top reasons for machine downtime, by factory, cell or machine. Take action where it matters most.
Quickly locate & fix production issues on day or night shifts. Remove bottlenecks to gain machine capacity day & night.
Focuses continual improvement efforts on the machines, cells, shifts or particular jobs where you can achieve the biggest gains.
Improve speed of communication. Alert production managers based on tailored event triggers that are important to your operations.
Frequently Asked Questions
What is manufacturing analytics?
Manufacturing analytics involves collecting and using data to make manufacturing processes more efficient. Manufacturing analytics software gathers data from various sources within a factory or production line, such as machines. Manufacturers can then use this information to make decisions that drive improvement and optimise processes.
What are the goals of manufacturing analytics?
The ultimate goal of manufacturing analytics is the ability to leverage insights to make data-driven decisions that increase efficiency. Manufacturing analytics tools enable everyone in a business, from CEOs and managers to factory floor workers, to act on accurate, real-time data.
What are the benefits of manufacturing analytics tools?
Benefits of manufacturing analytics include:

Improved efficiency: Identify bottlenecks and inefficiencies in the manufacturing process.
Increased productivity: Reduce machine downtime with downtime monitoring and enjoy increased productivity in your business.
Make informed decisions: Manufacturing analytics solutions provide manufacturers with a wealth of data and insights that inform decisions such as staffing and machine purchases.
Reduce costs: Real-time monitoring allows you to spot issues as they arise. Reduce costs as a result of machine downtime, broken equipment and more.
Improve quality: By spotting defects and other related issues, manufacturers can act before quality is impaired.
Increased customer satisfaction: An optimised manufacturing process will increase efficiency and quality, which will ultimately lead to more satisfied customers.
Does manufacturing analytics improve OEE?
OEE comprises three factors: Quality, Performance and Availability. Manufacturing analytics provides valuable insights on the performance of your machines and production lines, allowing manufacturers to make informed decisions that improve OEE.

Learn more about how to improve manufacturing OEE with FourJaw.