Real-time data enables informed continual improvement, driving higher manufacturing productivity.
Locate and resolve production matters quicker by removing production bottlenecks easily with real-time data.
Understand how to improve process efficiency to help reduce production costs, to increase profitability.
STAY INFORMED
MANUFACTURING JOB TRACKING SOFTWARE
Maintaining control and oversight throughout the manufacturing process is essential for achieving efficiency and productivity.
FourJaw's job tracking workspace allows for the centralisation and monitoring of all production operations from start to finish, giving production managers a full view of their factory floor operations.
TAKE CONTROL OF YOUR PRODUCTION
Stay on Top of Production with Job Tracking
Understand Your Downtime
Tired of not knowing what the main causes of downtime on your jobs are?
Job Tracker reports allow you to evaluate the efficiency of your machines on specific jobs and work orders and identify the most common causes of downtime, allowing you to make informed decisions. Learn more about downtime tracking.
Know Your Productivity
Tired of constantly underestimating the time it takes to complete a job?
Our manufacturing machine monitoring software's job tracking feature shows you how much time was actually spent compared to what was expected, giving you the insights you need to quote more accurately in the future.
KNOW HOW LONG JOBS ACTUALLY TAKE
Track Progress
Track jobs in real-time with FourJaw manufacturing analytics work booking tool.
Compare the actual time spent on a works order to the expected time to see if you've overrun and use this information to quote more accurately in the future
Understand which jobs are more profitable to allow you to focus on your production priorities and identify where improvements need to be made
Improve job scheduling and time management with accurate time expectations and workflow management
Use historic data to accurately inform decisions and deliver future projects on time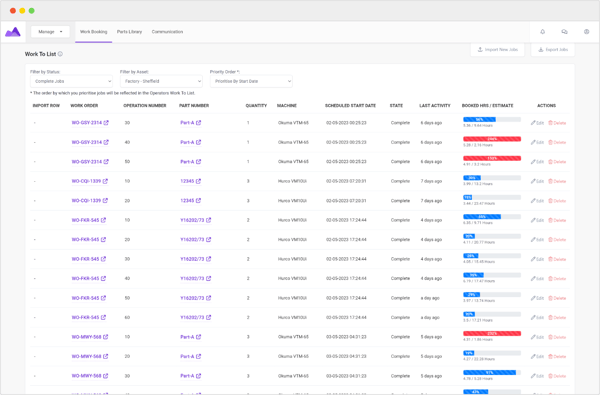 MAKE INFORMED DECISIONS
Reporting
FourJaw machine monitoring captures all the detail behind jobs so you can take corrective action where required.
Run reports on your work orders and jobs to evaluate how well your machines were utilised and the most common downtime reasons
Increase the profitability of jobs. Use data to drive continuous improvement to protect and grow margins by making future work more efficient
Discover issues in your production line and use actionable insights to improve manufacturing times
Manage complex projects with greater attention to detail
EASY TO INSTALL JOB TRACKING
What's different about FourJaw?
Compatible With Any Machine
Our MachineLink IIoT device can be easily and quickly self-installed on any manufacturing machine, regardless of brand, type or age.
With a simple self-installation, there's no need for upfront installation costs or costly ongoing maintenance contracts.
Can be Installed in Minutes
Our MachineLink hardware can be installed in as little as 10 minutes and it doesn't require any PLC integrations.
Frequently Asked Questions
How Does Job Tracking Benefit Manufacturing Plants?
FourJaw's workbooking and job tracking feature is used to monitor and manage the progress of individual jobs in a manufacturing facility. Helping to improve efficiency, reduce downtime, improve lead times, plan resources more effectively and increase transparency in the production process.
Learn more about downtime monitoring.
How Does Job Tracking Software Improve The Efficiency Of Manufacturing Plants?
Job tracking software provides real-time data on job status, enabling manufacturers to quickly identify bottlenecks and make informed decisions to optimise their production process.
The information provided helps automate manual processes and reduces the risk of human error. Typical benefits include:
Reduced production costs
Reduced lead times
More profitable work
Focus production priorities
Allocate the right resources more effectively
Is Job Tracking Software Expensive?
FourJaw's manufacturing analytics platform includes real-time machine data to allow you to see key manufacturing productivity metrics such as OEE and utilisation in real time. FourJaw's pro subscription is available on a monthly pricing plan and includes the job tracking feature as standard.
With monthly payment plans and self-installation available you can avoid the typically large up-front costs you'd find with other providers. Check out our machine monitoring and job tracking software prices.