Two years ago, our co-founders Chris and Robin set out to develop a technology solution that would enable them to set about their mission to deliver accessible technology to empower manufacturers to achieve their productivity potential.
Just over two years on, they have done just that, building a diverse and passionate team of individuals who collectively are positively changing the world of manufacturing for the better by enabling manufacturers to maximise their productivity potential by harnessing the power smart, affordable and accessible technology offers.
This week, these collective efforts were recognised by the British Chamber of Commerce, in their 2022 business awards with FourJaw winning the regional business award category 'The Problem Solver – Business Diversification Award', the award recognises a business that has transformed the market that they operate in.
It is fantastic to see a Sheffield, technology startup being recognised for its positive impact on manufacturing businesses. FourJaw's machine monitoring software is being used by manufacturers across the country, to enable them to drive productivity, gain capacity and grow profitability and in the current climate, there has never been a greater need for FourJaw's manufacturing analytics solution.
FourJaw, along with several other regional winners, has now been shortlisted for the upcoming national awards in December.
Commenting on the awards, Interim Chief Executive, Louisa Harrison-Walker said.
We wanted to promote the great work of Sheffield businesses by nominating our members for the national Chamber Business Award. We see this as a brilliant opportunity to celebrate their achievements."

"The Awards recognise the best of British business, and we are very pleased that all our nominees have gone through to be shortlisted for the National finals".
About the British Chamber of Commerce Awards
The British Chamber of Commerce awards are designed to recognise the incredible efforts of its members by giving them the chance of being named one of the best businesses in the UK.
Sheffield Chamber of Commerce is championing several firms in the British Chamber of Commerce Business Awards 2022 and as a member of the Sheffield Chamber of Commerce, FourJaw was put forward.
Find out more about the British Chamber of Commerce awards here.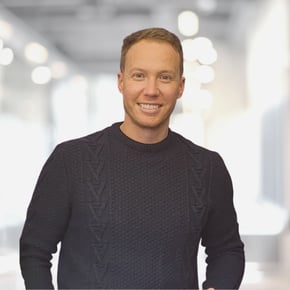 James Brook
A passionate and experienced Marketing Leader with a background of 15+ years in developing and implementing marketing, brand, and product strategies for companies across a breadth of sectors and geographies. Over the last five years, James has worked in the technology space, having led the global marketing function at an Industrial monitoring and control company and more recently joining FourJaw as Head of Marketing & Communications. FourJaw is a SaaS business that is helping to change the world of manufacturing productivity through its IoT machine monitoring platfom.