The University of Sheffield Advanced Manufacturing Research Centre (AMRC) has appointed FourJaw as a partner in a smart manufacturing project, aimed at accelerating the adoption of low-cost digital technologies in manufacturing in a £867,000 pilot project, designed to create digitally savvy engineers of the future.
The NextGen project will see AMRC select 14 businesses, ten from South Yorkshire and four from Wales to receive FourJaw's plug-and-play machine monitoring technology. This will enable them to drive productivity by providing data insight that helps to optimise their production processes and make more informed business decisions.
The pilot project is funded through the High-Value Manufacturing (HVM) Catapult and is aimed at addressing the future of data science and the current analytic skills shortage in the manufacturing sector.
FourJaw's machine monitoring software has simplified IIoT by creating the first easy-to-use and affordable machine monitoring system which delivers data that can be used to ensure that machines are being utilised to their full potential.
Chris Iveson, Co-Founder and CEO of FourJaw said:
"FourJaw aims to help manufacturers solve their two biggest problems: how do they find more work, and how do they manufacture that work on time, to spec, and within budget. Our IIoT machine monitoring solution enables this by giving manufacturers the data visibility to improve their shop floor productivity by understanding the main causes of downtime.

"We're delighted to have been chosen to be part of this programme and look forward to working alongside the AMRC and the 14 manufacturers selected to demonstrate the value smart technology can provide manufacturers of all sizes".
Once the data has been gathered, it will be analysed by apprentices at the AMRC, allowing them to experience working with data analytics, learn new skills and create digital savvy engineers.
Head of research at Factory 2050 for the AMRC, Tom Hodgson, said:
"We are pleased to have FourJaw working on the project with us. They are a dynamic company that has an innovative product that is not only easy to set up but also delivers reliable data that is presented in a way that is easy to analyse. The fact that they are a spin-out company shows just how a company with a great product can grow and develop."

Tom added: "The project will act as a showcase for how industrial digital technologies can benefit manufacturing organisations of all sizes and how digital tools can be used in these environments."
The aim of NextGen is to enable manufacturing businesses to leverage a competitive advantage by extracting meaningful insights from data, facilitating a move from a reactive to a predictive business model and help them to use this digital innovation to drive productivity and push them towards net-zero.  
To find out more about the NextGen project, you can view the AMRC's guide here.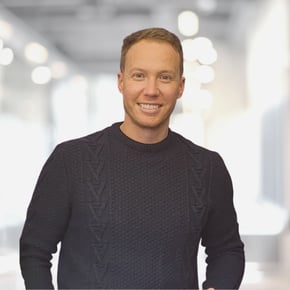 James Brook
A passionate and experienced Marketing Leader with a background of 15+ years in developing and implementing marketing, brand, and product strategies for companies across a breadth of sectors and geographies. Over the last five years, James has worked in the technology space, having led the global marketing function at an Industrial monitoring and control company and more recently joining FourJaw as Head of Marketing & Communications. FourJaw is a SaaS business that is helping to change the world of manufacturing productivity through its IoT machine monitoring platfom.