Inflation. The word and its effects are something we've all become too familiar with in the last few months, none more so than manufacturers who were already up against dealing with the long-term effects of the global pandemic.
Today, manufacturers are still faced with supply chain and staffing issues caused by the global pandemic; but with the added economic pressures caused by the war in Ukraine. The two events have come together to create a perfect storm, causing inflation pressures not seen for generations, a challenge that is facing people, companies and governments around the world to deal with as best they can.
For manufacturers, this means dealing with margins coming under attack, energy and raw material costs skyrocketing, and factory gate prices not keeping pace.
Even with the 'Energy relief scheme' measures put in place by the UK government last week, it's widely expected that the inflationary pressures facing manufacturers will continue well into 2023.
According to MakeUK's regional Q3 outlook report, The key to success and, in some cases, survival over the next 12 months will be the ability of manufacturers to quickly and efficiently pass on price increases. Although that is easier said than done in many cases!
What Levers can Manufacturers pull to alleviate inflationary pressures?
The recent government announcement to cap business
energy bills for 6 months is of course welcome news for businesses throughout the UK, but as MakeUK commented in their Q3 outlook, this measure only partially addresses the broader inflationary pressures that manufacturers are experiencing, which are expected to
remain for the next 12-18 months. So what levers can manufacturers pull to offset the pressures caused by inflation?
Reduce costs (simple and obvious right!): OK, we're sure you will have already figured this one out yourselves. Reviewing your supply chain and input costs is a sensible place to start when looking to minimise inflationary pressures on your manufacturing costs. Reviewing existing contracts and renegotiating or looking for new suppliers may be a good place to start to make sure you are aware of what your fixed costs and overheads are.
Refine your pricing strategy: Do you have a clear pricing strategy in place? Even if you do, the likelihood is that it will need reviewing to understand your costs, and product/customer profitability. Another factor to consider when looking at your pricing strategy is by looking at the nature of the products you make, are they niche, complex products whereby you hold a competitive advantage? Or can anyone make them and therefore driving input costs down to maintain margins will be more important.
Improve productivity and operational efficiency: Improving productivity and efficiency throughout the business is a great place to start when looking and where you can save time and money. Like any business, reviewing processes and ways of working can sometimes fall off the priority list when things are going smoothly. But, throw in the current pressures manufacturers are facing and our advice would be to look at processes and see if they are working, or if there is room for improvement. For example, your shop floor looks busy, machines are on, machine operatives are working on their production lines and products are going out the door, great! However, do you know how productive your machines are? How much they're being utilised Vs. how much they could be utilised? Are processes in place to make a machine operatives job as efficient as possible? i.e. what are the main causes of machine downtime and could anything be done to improve it? This is where smart technology, like machine (not people) monitoring software, can really help manufacturers offset inflationary pressures.

OK, we know what you may be thinking. 'Technology requires large, upfront investment' which, in many cases is true and of course is constrained due to the availability of cash and payback. However, we designed and engineered FourJaw's machine monitoring platform to be as accessible and affordable as possible. It does not require a large upfront capital investment, it's quick and easy to install and therefore disruption to a shop floor is kept to an absolute minimum when installed.

Our machine monitoring platform is available on three plan tiers, all of which can be paid for on a monthly rolling contract, or if you did want to commit to 12 months, we offer an attractive 25% off the monthly plan price if paid annually. Check out our pricing and the plans available here.

Why not try our ROI calculator to see how fast the payback is for our machine monitoring software? Or check out this case study which saw, Yorkshire-based manufacturer, Durham Duplex See a 400% Increase In Machine Productivity.

How can smart technology, such as machine monitoring software help overcome my factory's inflationary pressures?
Increasing Productivity and Operational Efficiency by reducing complexities are levers we can help you pull, thanks to smart technology such as our accessible and affordable plug-and-play-machine monitoring software.
Going back to our example above, do you know how productive your machines are? When on, are they being utilised efficiently? Most manufacturers we speak to, think that their average machine utilisation rate is between 50 and 60 per cent. However, after implementing FourJaw to track machine utilisation, the data shows that on average utilisation rates are between 20-30 per cent. This presents a massive opportunity to offset inflationary pressures and reduce your operating costs.
Machine utilisation is one of a number of benefits machine monitoring can have on a manufacturer's production and operational efficiency. Here are just a few of the wider benefits machine monitoring software provides manufacturers.
Shop floor visibility – Identify operator time on the job, downtimes and the reasons for stoppages. Focuses on continual improvement efforts on the machines, cells, shifts or particular jobs where it will produce the biggest results.
Unlocking production capacity improves productivity. Make more with the same resources which reduces overall operating costs.


De-risk shifts such as night-time machine running through remote monitoring.
Reduces supply chain, commercial and reputational risk.


Accurate insight - Run time discrepancies more easily resolved – data replacing opinion, this also allows for more competitive price setting by making the true time costs visible.
An informed decision reduces bias and allows for processes to be improved that otherwise may not have been.


Improved communication across the business – shop floor – top floor. Alerts production managers of threats to on-time delivery, giving them a real-time view of work in progress.
Good communication leads to a more engaged workforce and efficient ways of working.


Improved culture on the shop floor through friendly competition, this also improves motivation around productivity targets by getting the shop floor and the top floor on the same page.
Increased employee morale, improved staff retention rates, recruitment and overall business success.


Trends & Benchmarking in downtime to support predictive maintenance using offline reasons.
Manage the present and optimise for the future. Proactively reducing the risk of things going wrong.
So you've come this far...why not book a demo and see the platform in action yourself?

Not quite ready to talk? Check out our customer success stories and find out how we've helped manufacturers just like you improve their productivity, efficiency and profitability through the power of machine monitoring smart technology.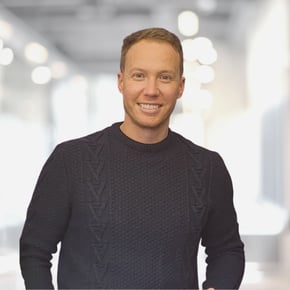 James Brook
A passionate and experienced Marketing Leader with a background of 15+ years in developing and implementing marketing, brand, and product strategies for companies across a breadth of sectors and geographies. Over the last five years, James has worked in the technology space, having led the global marketing function at an Industrial monitoring and control company and more recently joining FourJaw as Head of Marketing & Communications. FourJaw is a SaaS business that is helping to change the world of manufacturing productivity through its IoT machine monitoring platfom.