What is Shop Floor Data Capture (SFDC)?
Shop floor data capture, often shortened to SFDC, is where shop floor staff book on and off works orders and operations in real-time on the production floor. The benefits on offer by collecting this type of data are:
Complete costing per works order
Real-time works order tracking, which helps to find shop floor bottlenecks
Productivity analysis
Improvements to the accuracy of your production scheduling
Being able to access these benefits can drastically improve a manufacturer's ability to manage its operations effectively.
In practice, how effective is Shop Floor Data Capture?
In our experience, manufacturers fall into one of two SFDC camps: those that don't have it, and those that don't trust it.
The reason that manufacturers don't trust their SFDC data is that the data entry is manually input on a shared terminal found close(ish) to operators. The operator arrives at the terminal and scans a bar code on a works order print-out. This tells the manufacturers' ERP/MRP system the time that a works order and operation has started. Once the operation is complete, the operator returns to the terminal and "jobs off" the works order/operation.
That's fine in principle, but the data logging rarely happens at the right time on a busy shop floor with changing priorities and multiple works orders on the go at once.
Operators understandably forget to "job on" at the start of the day or "job off" over an evening or weekend. Because this is a quick task undertaken lots of times per day, it can be difficult to remember if they've scanned on/off at all. The result is that SFDC data is unreliable, with identical works orders varying in length from 3 seconds to 3 days. Unreliable data is useless data, so how can you use it to make the right decisions- important decisions such as pricing up repeat jobs, or scheduling future production?
There is another issue, which is that there's only so much value that you can glean from only a "start/finish" time. It's really important to understand what's going on between the beginning and end of a works order. However, with standard SFDC, there is often a black hole of information during this period. Yes, SFDC systems allow the manual tracking of downtime reasons, but these are even less reliably logged as the SFDC terminal is not near the operators.
At FourJaw, we are creating a third SFDC camp: for those who can't run their business without it. This is thanks to Intelligent SFDC, which FourJaw has developed to address all the problems with existing systems.
Sounds great, what makes FourJaw's Intelligent SFDC different?
Thanks to our low-cost plug-and-play hardware, FourJaw's machine monitoring platform knows when each of your machines is running productively, plus the quantified downtime reasons which are input and displayed via the FourJaw tablets, installed conveniently on (or next to) each machine in your factory.
Intelligent Shop floor data capture, which is now included free of charge with the FourJaw 'Professional' subscription, enables you to bring your works order data from your ERP/MRP system into FourJaw, meaning operators can now job-on and off at their machines by picking from a list of prioritised works orders, bespoke for that machine.
By adding in the context of machine monitoring, Intelligent SFDC creates a far more accurate, reliable and powerful SFDC platform, for the following reasons:
FourJaw tablets are installed on each machine, meaning operators always have the right data at their fingertips.
If a machine starts running but it's not jobbed-on, the operator is prompted by the FourJaw application on the tablet. They are presented with the "Work to" list in priority order, and they can pick the works order and operation that they've started. Easy as that!
If they forget to job-off when they go home on an evening or weekend, FourJaw will recognise that the machine is not productive and automatically do it for them.
Intelligent Shop floor data capture now provides a rich tapestry of contextual information in-between job-on and job-off, including set-up/tear-down times, run times and quantified downtime reasons.
All of this is captured using a combination of passive machine monitoring plus quick and easy manual data entry, prompted by the FourJaw tablets at the machine. This means the data captured is reliable!
In summary
There are some amazing benefits to be had by using SFDC systems, as long as the data capture is accurate. Existing systems don't enable the capture of this accurate data, which means it's not of much use.
FourJaw's Intelligent Shop floor data capture overcomes these challenges by combining machine monitoring and per-machine data inputting (via FourJaw tablets) to make sure the SFDC data collected is richer, more accurate and more reliable.
How do I get started with Intelligent Shop floor Data Capture
To get going with Intelligent Shop floor data capture, there is a short configuration process with our Customer Success team who will undertake some custom field mapping between your ERP/MRP and FourJaw. They will also explain the data transfer between your ERP/MRP and FourJaw, then you'll be up and running!
Not currently using FourJaw's machine monitoring platform? Book a free, no-obligation demo and consultation today.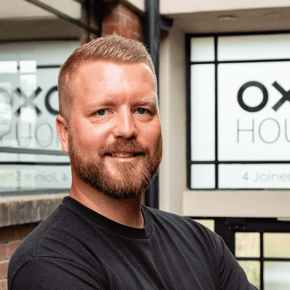 Chris Iveson
Chris is a Co-Founder and CEO of FourJaw Manufacturing Analytics, an investment-backed tech company based in Sheffield, South Yorkshire. Following an early career as a mechanical design engineer at several UK manufacturers, Chris moved into the role of commercialising manufacturing research at the AMRC. In 2020 Chris along with his co-founder, Robin Hartley-Willows founded FourJaw. Today, Chris leads a high-performing team that serves manufacturers around the world spanning aerospace and defence, pharmaceuticals, food production to textiles with its cloud-based manufacturing analytics platform.