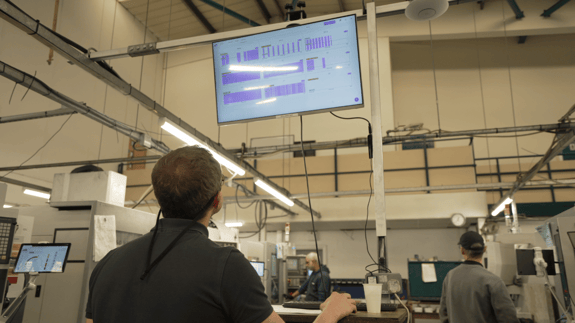 YOUR PRODUCTIVITY IMPROVEMENT JOURNEY WITH FOURJAW






Start Your Path to Maximum Manufacturing Productivity
Our team is here to support you, from the initial onboarding process right the way through to identifying improvement opportunities and working with you to measure the effectiveness the process improvements have in your manufacturing business.
Find out more about our 'Productivity Improvement' customer journey process below and learn from fellow manufacturers about how they've driven productivity, gained capacity and grown profitability using the FourJaw manufacturing analytics platform.
Top Tips For A Successful Roll-Out
Ensure the right people and internal resource is allocated from the start to maximise the success of your onboarding process.
Your operators are pivotal to the rollout's success. Make sure they are fully aware of the platform, how it will help them, and what the goals are.
Share the data at your daily/weekly production meetings to ensure stakeholders benefit from the insight to drive continuous improvement.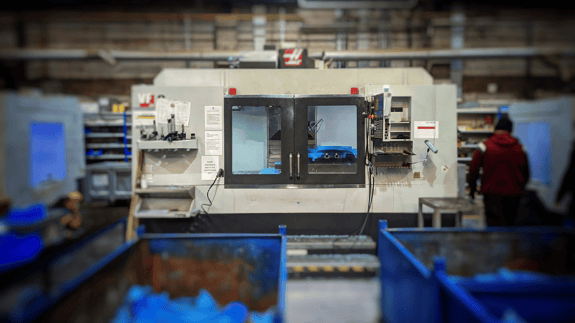 COMMUNICATION KEY TO CULTURAL ADOPTION
FourJaw's customer success team supported me to communicate this effectively and once the team understood how the data was being used, it facilitated conversations which were used to inform and educate operators, which lead to a greater sharing of best practices, changed behaviours and enhanced machine utilisation and productivity".
Meet The FourJaw Customer Support Team
TOUCH
Chris Parkin
HEAD OF CUSTOMER SUCCESS
Chris has an extensive manufacturing background working his way from apprentice to head of operations. As a Lean Six-Sigma Green belt, Chris applies his experience and lean principles to enhance manufacturing processes for better quality, cost-effectiveness, and efficiency for FourJaw's customers.
Chris Parkin
HEAD OF CUSTOMER SUCCESS
TOUCH
Richard Donson
CUSTOMER SUPPORT REPRESENTATIVE
Richard started his career as a CNC machine programmer and has experienced the challenges of the shop floor first-hand. Over the past 10 years, he has worked in customer-facing roles, prioritising customer satisfaction.
As you onboard with FourJaw, Richard will work alongside you to ensure a smooth rollout across your factory.
Richard Donson
CUSTOMER SUPPORT REPRESENTATIVE
Growing Capacity And Productivity.
Watch Now And Learn How Instant Factory Floor Visibility Resulted In:
14% increase in machine utilisation
65% parts increase
Ability to identify which machines are and aren't utilised
Accurate data to make informed, confident commercial decisions
FourJaw Productivity Improvement Customer Journey
PHASE 01: START
Our process for getting you configured and set up with FourJaw.
1. Guided Tour

A guided tour of the platform that will be tailored to your manufacturing processes and challenges.

2. Order Placed

Once the order is placed, we aim to dispatch your hardware within five working days.

3. Key Details

Provide details of the key people involved, the machines being monitored and the Wi-Fi details.

4. Installation

Plug-And-Play hardware installed by your own, qualified, electrician.
PHASE 02: EMBED
Our process to validate your data, train and drive cultural adoption.
5. Data Classification

Confirm Data Classification is correct, per machine, calibrating FourJaw to your machines.

6. Stakeholder Training

A virtual training session to get you and the key stakeholders confident with the platform.

7. Data Analysis

Collect and analyse machine data to gain an understanding of the 'current state'.
PHASE 03: GROW
Our process to analyse, refine and optimise to drive continuous improvement and ROI.
8. Optimise

Explore utilisation/OEE plus downtime reasons, and make recommendations /changes to processes to drive improvement.

9. Measure & Refine

After 2-4 weeks measure and refine based on data insight following changes from step 08.

10. Improvement & ROI

Look at the productivity improvements achieved, calculate an ROI to support the business case for further roll-out.
Need Support?
Visit Our Knowledge Base
Find answers to common questions and keep up to date with the latest product release features at help.fourjaw.com


Contact The Team
You can contact our customer support team Monday-Friday, 8:00 am until 5:30 pm (GMT), simply complete the form or contact them via the details below.
ADDRESS: Oxo House, 4 Joiner St, Sheffield S3 8GW
PHONE: +44 (0) 114 400 0158
EMAIL: info@fourjaw.com
WEB: www.fourjaw.com