Not all shop floor data is born equal. This blog looks at how and what shop floor data you should be capturing to enable you and your machine operatives to improve machine utilisation.
As a manufacturer, it's highly likely you'll already be monitoring Work order times, Ops times and setup times, of course, this is all useful, however, it does not give you the big picture. For instance, it doesn't identify and inform you of what improvements can be made. This is where the power of machine monitoring comes into play, a platform like ours will give you real-time, actionable shop floor data such as:
Top 5 downtimes, per factory, cell or machine

Pareto plots

Average setup time per part

Downtimes and machine active times per work order
The importance of knowing your TRUE machine utilisation.
Most of the manufacturing businesses we speak to estimate machine utilisation at between 50% and 60%. However, after implementing 'plug and play' manufacturing analytics software, the data shows that actual utilisation rates are, on average, between 20% and 30%.
For a lot of manufacturers, the first instinct is to invest in new equipment to help increase efficiency. In many cases, with the right information at their fingertips, those businesses can significantly improve Overall Equipment Effectiveness (OEE) without having to invest in new kit, simply by tapping into the capacity in their existing machinery.
This potential often remains untapped as many manufacturers don't realise that this type of 'plug and play' machine monitoring exists, or how quick, easy, and cost-effective it is to implement across an entire manufacturing facility, giving them a holistic view and enabling them to address productivity across the site, rather than focusing in one specific pain point.
Gaining a clear understanding of the whole production picture helps to ensure that all resources – machinery, staff skills, energy, and time – are used efficiently and cost-effectively.
Don't be put off by 'Industry 4.0 Buzzwords'
Industry 4.0 can sound complex (in some cases it is), but when used correctly, it can open up access to shop floor data that was once out of reach for many manufacturers. An example of this is plug & play machine monitoring. It allows shop floor managers and the machine operatives to gain a true picture of how their shop floor is performing which is a vital first step in achieving those all-important efficiency gains and driving OEE goals such as performance and availability.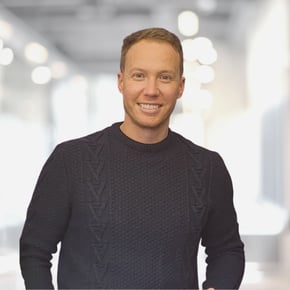 James Brook
A passionate and experienced Marketing Leader with a background of 15+ years in developing and implementing marketing, brand, and product strategies for companies across a breadth of sectors and geographies. Over the last five years, James has worked in the technology space, having led the global marketing function at an Industrial monitoring and control company and more recently joining FourJaw as Head of Marketing & Communications. FourJaw is a SaaS business that is helping to change the world of manufacturing productivity through its IoT machine monitoring platfom.