The cost of entry into productivity-boosting Industry 4.0 technology has been slashed to under £200 following the launch of a secure cloud-based smart app by tech start-up FourJaw Manufacturing Analytics.
The launch of the app – and easy-to-install MachineLink sensors – enable precision engineering firms that supply the aerospace, defence, medical and other high value manufacturing sectors, to access Industry 4.0 levels of data analytics which are unlocking five-fold increases in shop floor productivity.
FourJaw co-founder and CEO, Chris Iveson said: "We designed the app and hardware to be simple to install and even simpler to use – less than four minutes for Industry 4.0. This gives operators and ops managers immediate visibility of business-critical data on a tablet, smartphone or laptop."
"The beauty of the system is that it can be deployed on any machine, any age, any model, anywhere at any time. Whether it's a workhorse Colchester lathe or a top-end Doosan, the data flows perfectly. All for less than £200 a machine. We even offer a no-cost lite option to trial the kit: but no one has taken us up on that offer as the standard price is seen as a no-brainer."
Lindsay Atkins at Chesterfield-based precision engineer CBE+ is already seeing the benefits of adopting the app: "It's an absolutely fabulous tech to use and has become an essential aspect of our production planning processes. We are also using it for pricing. Sometimes, especially with a new job, we estimate production time based on similar components, but now we can see instantly how long the job actually takes. When we find we have overestimated, we are able to reduce our costs to the customer which helps us win new contracts. The simplicity of using FourJaw's tech has convinced us to roll it out across the shop floor. It's literally opening our eyes to see things for the first time."
Charles Turner, Managing Director of Sheffield-based Edward Turner and Son, has seen a five-fold productivity boost in a key part of its operations after adopting the app. "I am a Sheffield manufacturer and I am not going to spend my money on something that doesn't work. If it doesn't make a difference to my productivity and profitability I am not interested. Plug the FourJaw system in and you will get direct, recognisable benefits today rather than pie-in-the-sky promises.
'We knew about Industry 4.0 before we met FourJaw. But to be frank, it seemed mostly academic buzzwords and marketing from expensive majors. FourJaw stripped through that by working with people like us to understand the real world of the shop floor, rather than solutions invented by academia."
Alex Harding, CEO of Cajero, a Kent-based high-value-added manufacturer whose OEM customer base reads like a Who's Who of the aerospace, defence and space sectors around the world, is also an early adopter.
"We'd been looking at Industry 4 but ran into a number of hurdles. First, it has to be the machine tool builder's software, if they even have it. Second, there is the cost aspect of it, which is like a licence to print money. And third, we don't just have one machine type here. So the universality, accessibility and price of FourJaw's technology sparked our interest," said Alex.
But it was more than this: "FourJaw just cuts through all the bull. Visibility and access to useful, actionable data is a big part of taking our business from where we are now to where we need to be: not just for our own performance but for our customers. We set out a goal that we will be an Industry 4.0 smart factory in five years, having data-driven decisions across multiple machines, and we feel that FourJaw supports our ambition. It's accessible, we like the idea of plug-and-play."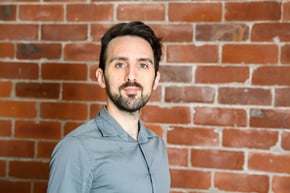 David Robertson
David is currently the Digital Marketing Manager at FourJaw. David has a background in marketing and data analytics having worked for a number of ISPs and technology companies during his career to date. At FourJaw David blends his analytics capabilities with his passion for creating and delivering engaging user-focused digital experiences.