UK manufacturers are still playing catch up on the adoption of Industry 4.0 technologies and processes. Yet the levels of investment required are not as big as cost-conscious managers think. The prize, however, could be a massive £325 billion additional revenue for SMEs and £145 billion extra economic output as a result of improved productivity, supporting 2.7million jobs across the UK.
So, what are the tallest Industry 4.0 hurdles to be overcome?
1. Language barriers: manufacturers are familiar with complex ideas and technical language, but when it comes to a more digital dialect, they can often find themselves struggling with unfamiliar terms. To add to the confusion, it seems as though even digital professionals cannot agree on the meaning behind buzzwords such as "Industry 4.0" and "Big Data". This lack of a common tongue can be one of the tallest hurdles to digital engagement and adoption.
2. The skills deficit: this can often be more apparent than real and is frequently a consequence of the language barrier. Most younger, digitally savvy shop floor operatives and engineers have an easy grasp of digital and can help translate the 'jargon' for those who find it almost a foreign language. Firms with older workforces may thus find the skills gap is a barrier to adoption. Working with good colleges to develop talented apprentices for the shop floor can be a brilliant way to leap over the skills hurdle. Additionally, firms should carefully select well-built software solutions that are intuitive and don't require a degree to set-up and maintain them. We all work smartphones and Netflix quite happily at home, so why not digital tech in the workplace?
3. Costs and returns on investment: the big players in the Industry 4.0 game are like the big players in financial consultancy. They talk about the 'transformational' and game changing impact digital can have on output and people, but the impact, unlike the cost, is not something that will be felt immediately. Providing an accurate and desired ROI is very difficult at this level, which only adds to the existing perceptions that Industry 4.0 is expensive. On top of this, for those firms buying new kit with pre-installed Industry 4.0 data monitoring technology, many will ask why do we need additional, expensive data software?
4. Top and shopfloor cynicism – a recent report by McKinsey suggests that Covid has accelerated the adoption of digital technologies in manufacturing. If true, this would be a bold and brilliant boost to UK productivity. Such claims, however, should be taken with a pinch of salt. McKinsey also argue that this acceleration in Industry 4.0 requires company executives to develop better strategies and practices to get the most from the adoption of digital – which means more work for McKinsey's expensive consultants. Promotions like this risks turning skeptical investors into cynical doubters. Manufacturers should be able to see a clear and immediate return on investment from digital technology, and if they don't, they have every right to be cynical doubters.
5. Security: Despite the fact that we all use internet banking and increasingly conduct business online there is a common misperception in manufacturing that a set of servers running on-premises is more secure than a cloud-based application. In truth, most on-premises systems fall far short of the security that the best cloud providers have deployed. Ask yourself: how big is your security team? Then remember, the best application providers and data centres have large, dedicated security teams using automated threat monitoring systems that operate 24×7.
6. Low commitment, low risk: Traditionally, Industry 4.0 tech has high upfront costs and therefore high risk, making it difficult to justify today in the absence of certainty in both the market and economy. As a result, leaders have to perform a lot of internal due-diligence, slowing down the implementation process, often to a complete standstill. However, Software as a Service is changing that, making it much easier for manufacturers to dip their toe in with little to no commitment, and only fully commit if they see benefits.
7. Not enough time in the day: While most SMEs recognise the value of industrial digital technologies, they lack the time and capabilities required to understand their application and facilitate their adoption. This is especially the case in smaller SMEs where the lack of understanding of how to acquire and apply new technologies within their areas, and how they would fit into their business operations is a key barrier to adoption. While most are aware of robotics, analytics, IoT and their benefits, the specific need for, and application of, such technologies within their businesses remains an unanswered question.
8. It's only IT: Despite all the 'transformational' language of the big Industry 4 providers, for many SMEs data analytics and software tend to be perceived as IT projects. Given that these have very often overpromised and underdelivered or overran on costs in the past, this can create the perception that new technologies may end up being even more expensive than they already cost, adding to existing uncertainties. Seeing Industry 4 as critical to breaking down the barrier between IT and Operations is also critical to winning acceptance and the adoption of Industry 4.0.
9. Too big a leap: Much of the marketing hype on Industry 4 belongs on the set of Star Trek and not the shop floor. For a start, many manufacturing SMEs have not implemented the basic technology and/or processes required to collect data from their operations. As a result, they think that Industry 4.0 and digital technologies are not completely compatible with the factories that they operated. For them, transitioning to Industry 4.0 and adopting advanced technologies is too large of a leap. Many identified the need to first adopt more basic digital technologies geared at collecting data from existing machines, such as tracking production processes by collecting data during production. Big Data analytics, simulation and AI are not on their radar screens. Small steps not giant leaps will overcome this hurdle.
10. It's not for us: SME owner-managers strongly associate the concept and promotion of Industry 4.0 and 'smart factories' with large enterprises. This creates the perception that Industry 4.0 is "not for me" and not something that they should be concerned about in the near future. The flip side of is that the majority of technology suppliers, including many Industry 4.0 start-ups, are focused on the opportunities within larger enterprises such as data intensive AI and Machine Learning, while 99% of manufacturers are SMEs using largely manual processes and legacy machines. Again, the solution is to think small to win big.
Introducing Friendly Industry 4.0 Machine monitoring
We didn't want to write this blog without giving our product a plug! We recognise how Industry 4.0 can seem daunting to many manufacturers, even some of the largest, most established ones. That's why we created FourJaw, it is a super friendly, affordable, flexible and scalable machine monitoring platform that is designed with ease of use (including installation (it's plug and play)) in mind. Find out more about our machine monitoring solution here or if you'd like an informal and informative free consultation, you can book one here. We'd love to help you unlock your factory's potential and achieve the productivity gains some of our customers have.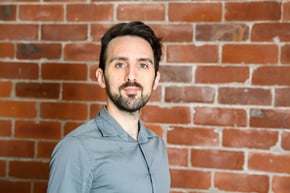 David Robertson
David is currently the Digital Marketing Manager at FourJaw. David has a background in marketing and data analytics having worked for a number of ISPs and technology companies during his career to date. At FourJaw David blends his analytics capabilities with his passion for creating and delivering engaging user-focused digital experiences.