Improve production uptime
Improve factory floor communication
Understand what work is most profitable
Understand which shifts are more efficient & why
Reduce production backlogs & costs
Plan resources more efficiently
Remove, manual paper-based processes
Monitor energy usage and reduce carbon footprint
REPLACE OPINION WITH FACT
No More Guesswork
More and more manufacturers are finally getting rid of the guesswork and time-consuming manual reporting by switching to FourJaw's CNC machine monitoring system; helping them to improve productivity and profitability.
CNC MACHINE ANALYTICS MADE EASY
Three simple steps to factory digitisation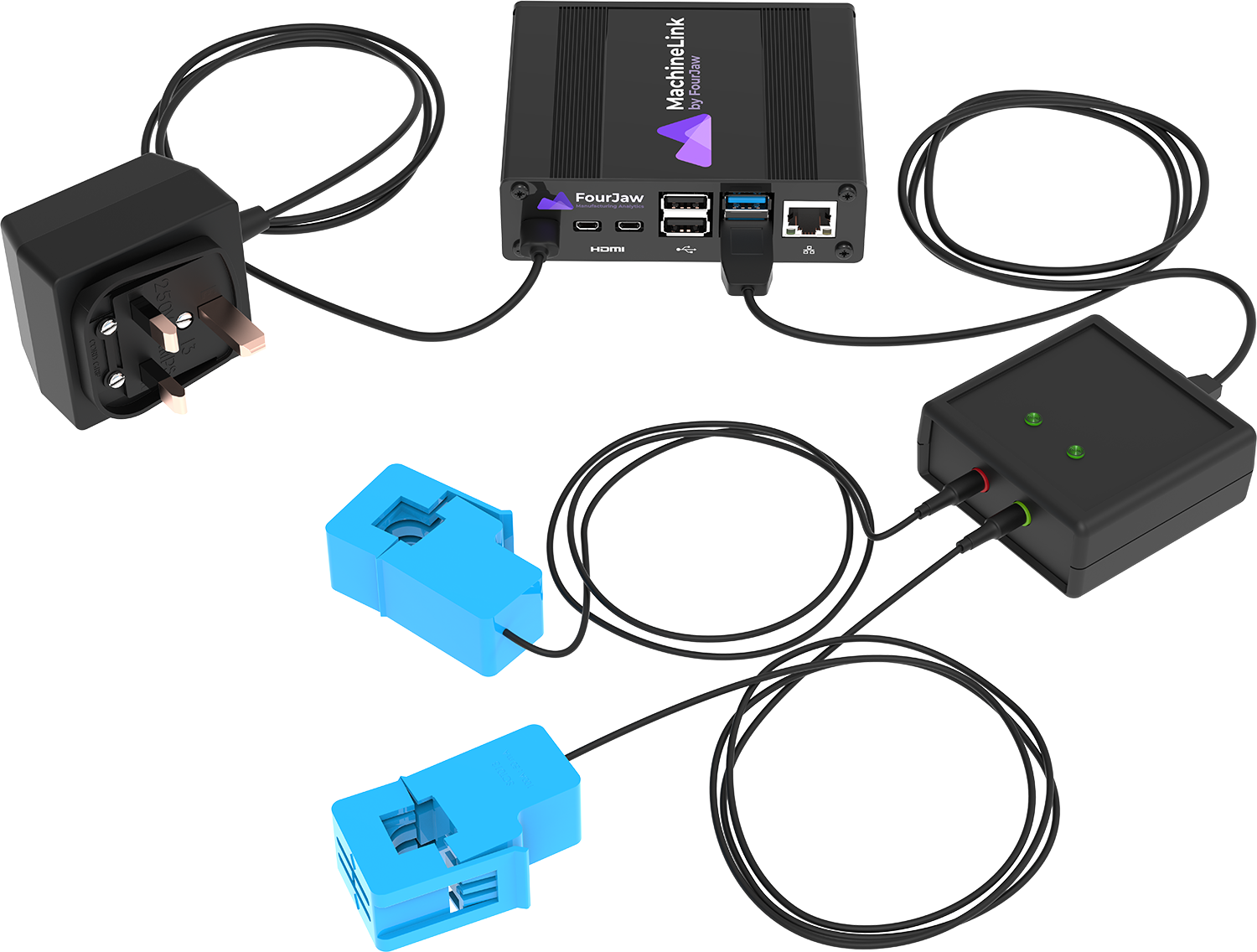 Uses a standard 3-pin plug for the power supply. Alternatives are available for installs out of the UK.
Sensors simply clip onto your machine's power cable.
Robust and compact metal-cased MachineLink IoT hardware locates on to the machine Connect to Internet via Wi-Fi or Ethernet cable.
The sensor box connects the sensors to MachineLink.
Install MachineLink Hardware
Simply supply power to the FourJaw MachineLink IoT device, then attach the sensor to the CNC machine's power cable.
Connect the MachineLink to your factory's WiFi network (or simply wait for it to connect if you requested preconfiguration.)
Log in to the secure, cloud-based FourJaw Web App and data from your shop floor will start to pull into the platform within a few minutes.
YOUR SHOP FLOOR, CONNECTED
KNOW THE DETAIL BEHIND EACH JOB
Constantly patrolling the shop floor for issues may be excellent for getting your steps in, but it isn't very productive, especially since FourJaw will automatically do all of this for you.
Everything you need to run, operate, and grow your manufacturing operations is at your fingertips with FourJaw's CNC machine analytics platform. To that end, you should probably renew your gym membership.
CNC MACHINE MONITORING MADE EASY
What's different about FourJaw's CNC Machine monitoring software?
Works With All CNC Machines
Our MachineLink IIoT device can be easily and quickly self-installed on any CNC machine, regardless of brand, type or age.
With a simple self-installation, there's no need for upfront installation costs or costly ongoing maintenance contracts.
Can be Installed in Minutes
Our MachineLink hardware can be installed in as little as 10 minutes and it doesn't require any PLC integrations.
CNC MACHINE MONITORING SOFTWARE
Drive Growth & Understanding
By monitoring and analysing CNC machine data, FourJaw will enable you and your operators to make your machines run productively and profitably.


Identify Downtime Reasons
Real-time data provides the top reasons for machine downtime, by factory, cell or machine. Take action where it matters most.
Quickly locate & fix production issues on day or night shifts. Remove bottlenecks to gain machine capacity day & night.
Focuses continual improvement efforts on the machines, cells, shifts or particular jobs where you can achieve the biggest gains.
Improve speed of communication. Alert production managers based on tailored event triggers that are important to your operations.
YOUR FACTORY'S NEW BEST FRIEND
What our customers say
"FourJaw's CNC machine monitoring solution has helped to quantify our initial thinking and put some value to it so that we could make more-informed data-based decisions. The recent product enhancements have made FourJaw a solution that is delivering real benefit from the top floor to the shop floor, it's the team's operational tool"
ALL YOU NEED TO INCREASE PRODUCTIVITY
FourJaw Features
Downtime Reasons
Benchmarking
Live Data
Alerts
Job Tracking
Energy Monitoring
Downtime Reasons
Find out top reasons for machine downtime, by factory, cell, or machine. Take action where it matters most.
Benchmarking
Know your utilisation and OEE so you always know when things are going well (or not so well).
Live Data
See how your machines, lines, cells, or factories are doing without constantly patrolling the factory floor.
Alerts
With immediate notifications, factory managers can take quick action to prevent costly downtime.
Job Tracking
Keep track of jobs and analyse the efficiency that work-to lists are executed.
Energy Monitoring
See how energy usage translates to costs and carbon footprint to motivate change.
ROI IN MONTHS, NOT YEARS
CNC MACHINE MONITORING SOFTWARE THAT PAYS FOR ITSELF
FourJaw's CNC machine analytics platform provides a fast payback period with a return on investment typically achieved in months, not years (and in some cases weeks).
As you'd expect, our technology comes with customer support to make sure you and your teams get the most from the platform.
COMPLETE SHOP FLOOR VISIBILITY, IN REAL-TIME
Empower Your people with the right information
Improve communication across your shop floor with automated alerts, live dashboards and peer-to-peer in-app messaging.
Keep your team informed
Improve collaboration
Speed up decision making
Replace opinion with fact
Get everyone on the same page
Frequently Asked Questions
What is CNC machine monitoring?
CNC machine monitoring refers to software that tracks the performance and activity of CNC machines in real-time. By collecting and analysing data about the operation of CNC machines, the software is able to optimise production, identify machine downtime, react to breakdowns, and improve overall efficiency.
CNC machine monitoring helps manufacturers reduce production downtime, improve quality control, boost production speed, and better optimise production schedules. Plus, its insights will help manufacturers make informed data-driven decisions to improve operations.
Does FourJaw only work on CNC machines?
What manufacturing sub sectors use your CNC machine monitoring software?
Our CNC machine monitoring software is trusted by manufacturers of all sizes in a range of manufacturing sub-sectors, including: